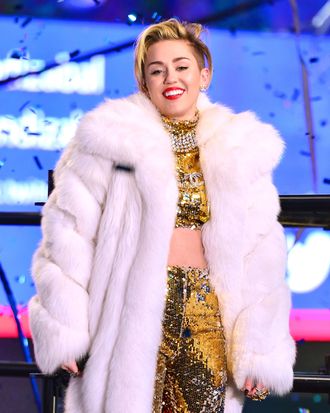 Photo: James Devaney/WireImage
The Miley Cyrus-Marc Jacobs love affair deepens: Just a week after she starred in his moody new campaign comes news that she'll wear lots of Marc on tour, too. The Hollywood Reporter has wardrobe details of the upcoming Bangerz tour: To match her new thatched-roof-inspired bowl cut, she will also wear pieces by The Blonds and Jeremy Scott, and archival looks by Bob Mackie.
THR also notes that, in an incredible alignment of the stars, the whole tour is based on animals and designed by the creator of Ren & Stimpy. So, much like her AMA ensemble, here's hoping those Marc looks come with lots of creepy Internet-cat faces embroidered onto them.