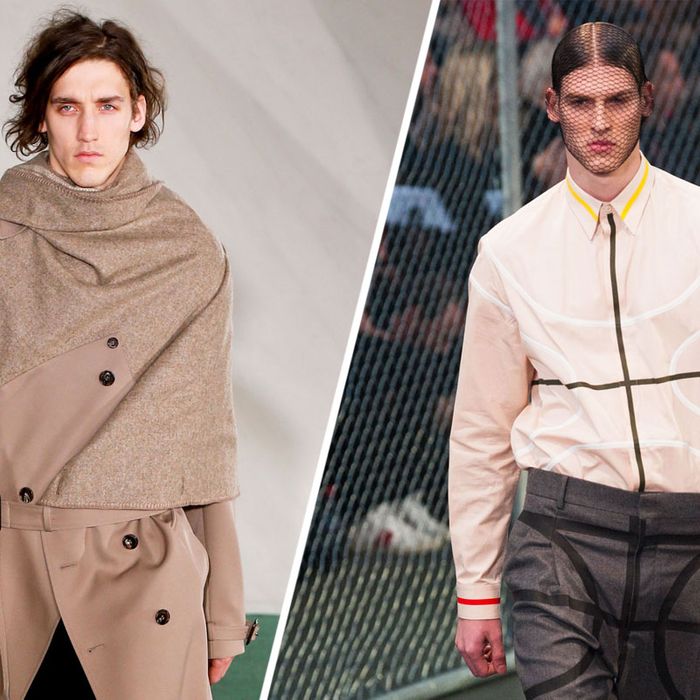 Fur is officially trending at the men's fall/winter 2014/2015 collections in Paris. Yesterday, it was fur stoles at Dries Van Noten, and today, in addition to fur-lined hoods and fuzzy collars, there were long fur coats at both Givenchy and Maison Martin Margiela.
The Margiela show, held in the Oscar Niemeyer—designed French Communist Party headquarters, had models cast as men on a mission reclaiming "a utopian world." There were strong military references — utility vests, a bomber-jacket patch worked together with sturdy waterproof and windcheater fabrics, and lace-up boots — but these post-apocalyptic heroes managed to also look dashingly stylish. Some of the earlier looks had the attitude of an off-duty Hugh Grant (circa Four Weddings and a Funeral): three-piece suits, top shirt-buttons undone, and hair that looked charmingly foppish.

It was a relatively understated collection for Margiela, but much of the showmanship lay in subtle details — like the oversize, fur-lined pockets, and a cape that first looked like a blanket but was actually made in the shape of a trench. Not such an easy thing to pull off.
While there were no masks at Margiela, Riccardo Tisci at Givenchy had his models wearing netting over their faces like sport-guards. The ostensible theme for this show was basketball, or more specifically, "Basketball and Bauhaus," according to Twitter. To set the scene, Tisci reimagined a basketball court — foreboding, perhaps, because of his upcoming collaboration with Nike — and encircled the runway in a wire fence with the lines of the court outlined by fluorescent lighting. There was even a scoreboard on display with Tisci's lucky number 17 lit up.
The players in this game were dressed in ultra-luxe suiting and sportswear: stylish velvet, wool, and full-leather suits were worn with chunky sneakers; likewise, suit pants were paired back with crisp white shirts and bomber jackets. Most interesting was the designer's literal exploration of the basketball itself. The round shape guided the sleeve and shoulder silhouette, and the lines or patterns on the ball were used as markings for graphics, fabric construction, and zipper placement. 
Female model (and Tisci muse) Mariacarla Boscono made a cameo appearance amongst the men, wearing two looks: a bandeau top with men's trousers, and then, what appeared to be a fur vest, belted. Post-show, all Carine Roitfeld could say was that she wanted to be Boscono — "I mean, seriously!" – and, of course, Kanye West was also present, wearing a long fur coat over a hoodie. Yeezy, always getting the trend memos long before the rest of us.