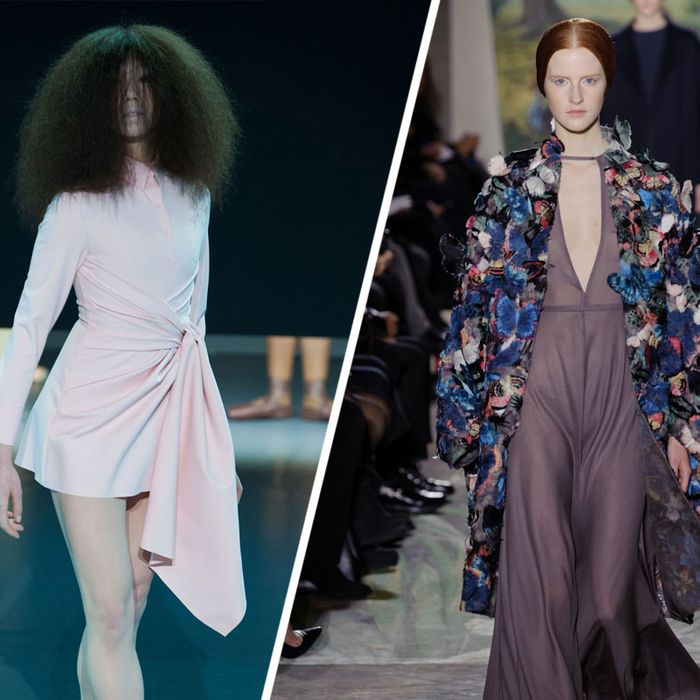 Ballerinas were à la mode at the last two shows on the haute couture schedule in Paris today. Viktor & Rolf cast dancers from the Dutch National Ballet as their models and presented them wearing the spring 2014 collection en pointe. A hush fell as they performed a choreographed dance.
Moments later a dancer appeared, long hair curled and covering the face, who moved about the stage as though in a mesmerized state. More dancers followed and tiptoed along the same line, each with the same hair and sense of expression. They looked like living dolls.
Clothes were fitted to bodies like dancewear, and what appeared to be separate garments were actually a single construction — mesh bodysuits acting as a second skin. Tattoos of bows and birds were also hand-painted on the bodysuits and the point where skin ended and the garment started was hard to distinguish. The skirt lengths were short, and either part of a draped dress or as a skirt worn with bandeau or bra tops. While this was a pared-back couture collection, bespoke precision was still a guiding force. Regardless, this season the drumbeat seemed to more about the launch of their new fragrance, Bonbon — the Inez & Vinoodh–shot campaign was unveiled during the finale — than the clothes.
At Valentino, the ballerina reference was somewhat more traditional. Tutulike skirts in the most delicate tulle were featured on several dresses, and one was even embellished with a swan that was made of feathers.
Ballet, however, did not appear to be the main theme for the collection. It was more of an ode to Mother Nature, or the diversity of the animal kingdom, as paintings of butterflies and flowers adorned the walls and the floors of the grand salons of the Hotel de Rothschild.
Animal prints were used as a motif (e.g., leopard print), but there were also prints of actual animals — one of the dresses featured a painting of a lion's head (let's call it the Simba dress) and later, there came images of giraffes and wild cats. Most incredible was when the fauna appeared in 3-D, like the cape whose entire surface was covered in brilliant blue embroidered butterflies.
Of course it wouldn't be Valentino without the floor-length lace or embroidered gowns, and this season there were many, each one more elaborate than the next (check out the dove-gray one with a Bambi-like narrative). But some of the more reserved styles — such as the mahogany crepe dress and a wheat-colored tussah silk dress and cape — were equally arresting.