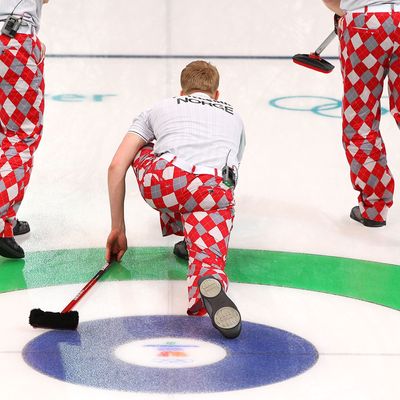 Photo: Cameron Spencer/Getty Images
As far as costumes for the Winter Olympics go, the hierarchy is clear: Ice skaters get all the glory and creative license, speed skaters are favorites because everyone loves an aerodynamic jumpsuit, and curlers get no attention whatsover. (to be fair, they are the most elite at pushing a thing with a broom on the ice.) Well, here's to progress: The Norwegian Olympic team has set out to change all of that with their now-famous fancy Olympic uniforms, the newest version of which was unveiled this week. At the 2014 Sochi Games, they will alternate between zigzag pants in Norway's colors of red, white, and blue and floral-printed bottoms that they've dubbed "grandmother-chic." A bonanza of prints!
There are some rules to pulling off such flashy garb in an otherwise conservative, black-pants-wearing sport: (1) Ride or die — nobody wears the pants alone. (2) Win at curling. "These pants would be great to win in, but they'd be terrible to lose in. We decided that when we wear them, we have to really try and win and go the whole way," one player told the New York Times.
The pants might not bring them gold come February, but it has brought the team fame in the form of a Today Show appearance and 540,345 Facebook followers — about 540,342 more fans than the actual sport of curling.