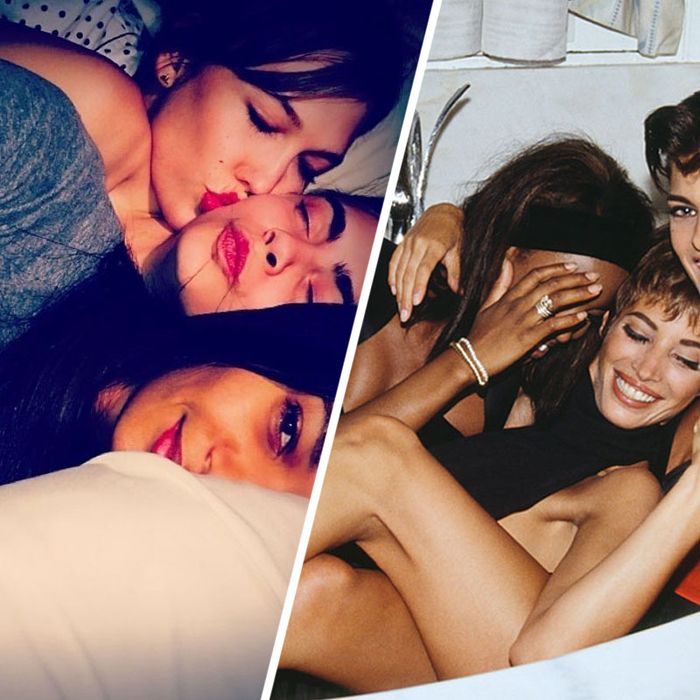 Photo: Phtoos: joansmalls/Instagram.com, Roxanne Lowit
Click over to Cara Delevingne or Joan Small's Instagram feeds from the weekend, and you'll see a casually sexual portrait of Joan, Cara, and Karlie Kloss in bed together. Karlie kisses Cara; Cara grabs Joan's boob; Joan snaps the friendly supermodel sandwich. The tag teases, "Sleepover, snuggle, spoon #forking #andalloftheabove."
As of my last check, the image had nearly 240,000 likes and thousands of comments. We don't know the moment that led up to this photo or the circumstances in which it was taken (only that they were probably having a lot more fun than we were this weekend). Maybe Cara is topless? Hard to tell. The comments on Cara's post ranged from: "Lesbi-honest here," to several crude inquiries as to where her other hand was, to the blunt "Y'all are so incredibly GAY [insert rainbow Emoji]." But the composition — and provocation — recalls the infamous Roxanne Lowit party photo from the nineties, in which another triumvirate of beauties — Naomi Campbell, Christy Turlington, and Linda Evangelista — sip Champagne in a bathtub cuddle-puddle.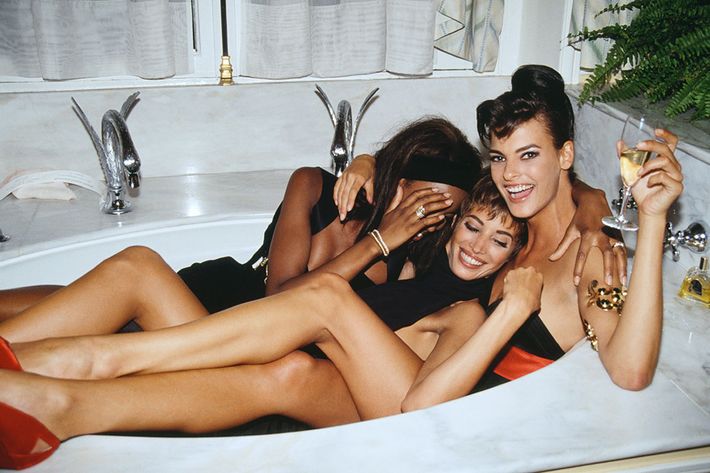 Both photos raise questions about the nature of the models' friendship — and invite the viewer to experience a new kind of voyeurism. We're "catching" three model best friends, being best friend-y, but unlike Lowit's shot, which was a sly nod to sexuality and sexiness, this weekend's image engages in far more overtly sexual territory, with references to more explicit terminology like "forking" (Google it).

This kind of implicit lesbianism is a hallmark of fashion photography. The big difference with Joan Smalls' selfie is that instead of a voyeuristic photographer like Terry Richardson instructing the girls to get more sexual with each other, this one was posted by Smalls herself, then regrammed and shared to 230,000 more followers by Cara. Twenty years ago, the power to publicize a shot like this was somebody else's, but now, the intent to share their moment of provocation and playfulness belonged to the models alone.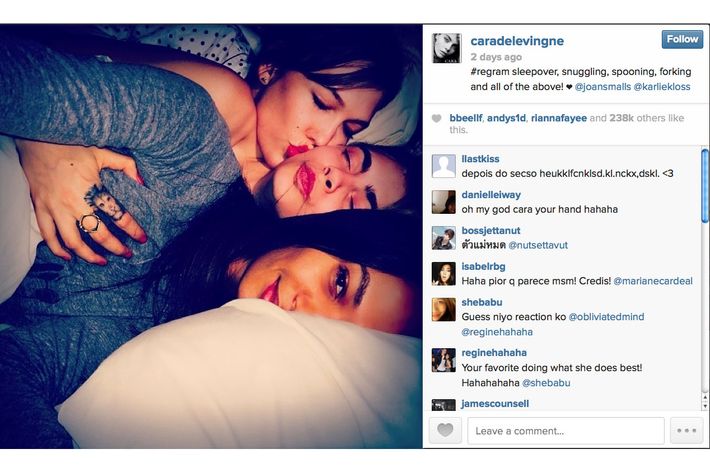 Though part of me remains skeptical, I have to admit I love this photo. I even "liked" this photo. It seems like the models are having so much fun. I want to think we're being offered a glimpse into the same kind of cheeky, spontaneous, intimate moment among friends that Lowit shared decades ago. I hope that this moment of sapphic bonding is not just using lesbianism for the sake of provocation.