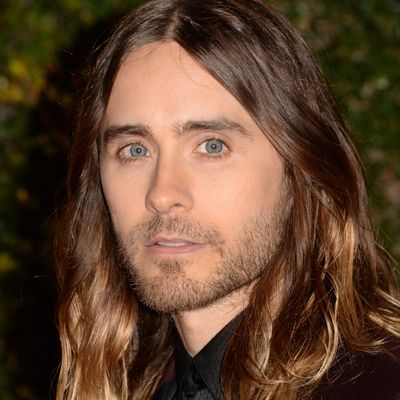 Photo: Robyn Beck/AFP/Getty Images
If there were such a thing as a siren call to beauty editors, Jared Leto's flowing hair would be it. It's so captivating, in part, because of the perfect amount of faded ombré — it looks simultaneously natural and too-good-to-be natural. And it is jealousy-inducing: At last night's Golden Globes, Leto debuted a man-bun that demonstrated that he even does gym hair better than most women (and makes it appropriate for the red carpet). In the spirit of obsessiveness intrepid journalism, the Cut tracked down the duo behind Leto's hairstyle, Aaron Grenia, of the Rheanne White Salon and Chase Kusero, and  to learn everything about the actor's hair. Read on to learn about what his look signifies, how often he washes his hair, how he copes with frizz, and the one styling product he uses to get it to look so freaking perfect.
Aaron Grenia: I started in San Diego, California, ten years ago. I've been doing hair since I was a kid, starting with clipper cuts with friends. I then realized I could make money doing it. It was organic, a fun hobby that translated into work.
My friend Chase Kusero has handled Jared for a long time. When the VMAs aired, that was when all the buzz started about Jared's hair. Chase had cut it and colored it that day at his house. Then Jared got on a plane, flew out here, and I styled it for the show.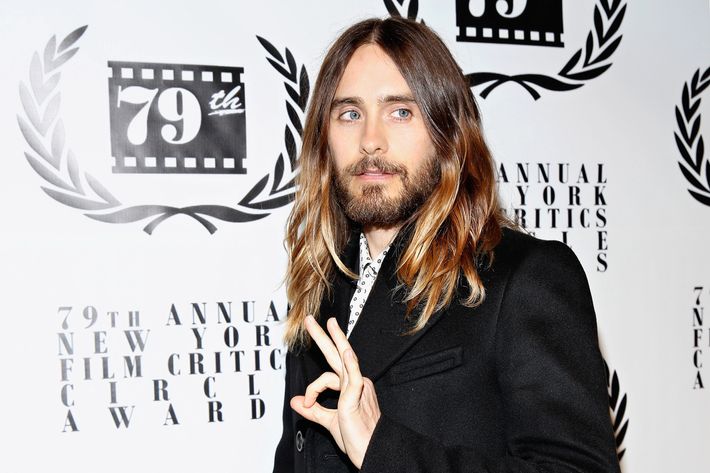 Jared is a cool guy. He transcends both worlds: He's an amazing actor and rock star. He is one of the only guys wearing [hair] so long, besides Ozzy Osbourne, another client of Chase's and mine. I think people are drawn to that natural look. The ombré that Chase did was beautiful and what really caught people's eyes. He was one of the only guys to ever be in People Magazine for best hair! Chase does more of a painting, more freestyle, which for ombré is a little different.
To be honest, Chase is the one that came up with the look of the long hair. Jared started growing out his hair two years ago. I wanted to get it to the point of it being really, really long. We actually wanted to grow it even longer! The challenging thing is, Jared knows what to do with his hair. He isn't someone who doesn't understand it. He knows hair. He actually did a lot of those early cuts himself! He's got a sense of style and branding. He has control over everything that goes out.
Jared's look was 100 percent planned out. He was in. I think when you have a look, you want people to notice, but you also don't want people to notice. But with Jared, the vibe I get from him is that it really is him. He's not putting on a show. Prior to meeting him, I might not have thought that. But he's very intelligent. He knows what he's doing.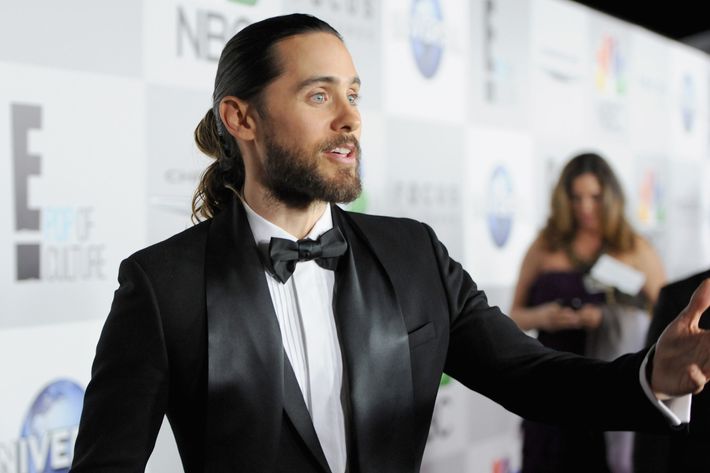 Jared has amazing hair, it's thick and wonderful. He has a little bit of frizz, so all it requires is a little bit of product and ironing to make it look natural. I tend to use Kerastase Oleo Relax. We try to use a lot of the oil. That's about it. No spray. He doesn't like buildup. We hand-blow-dry it section by section, and apply the oil over very low air flow. And after the blow-dry, add more of the Oleo Relax. We also use a little bit of the flat-iron to bend the hair and control the frizz. He doesn't want to look like a girl, obviously, so you can't blow-dry his hair with a round brush. He doesn't want to look like Jennifer Aniston. It's looks so effortless, but it is kind of challenging to make it look effortless. With him, when he gets out of the shower, his hair is already parted where it needs to be and combed properly. That's where I start.
The most important thing with Jared's texture [is] to not shampoo it too much. It needs to be not every day or every two days, which we fought with. He wanted to wash it every day. But technically, shampooing your hair every day causes it to dry out and adds more frizz, which is why you need something like Oleo Relax or something that has more of an oilier, greasier texture.
Right now, his hair is what it is and [is] going to be for a while. It's a center, natural part. There might be slight variations. In terms of it being subversive, I would almost relate Jared's long hair to short hair on women. When you have someone that goes and does it, on the right person, it's amazing. Not everyone, the masses can't do it. I might not be able to commit to the two years of growth. But the other day, in Williamsburg, this guy came out of the house. I was like, Jared Leto.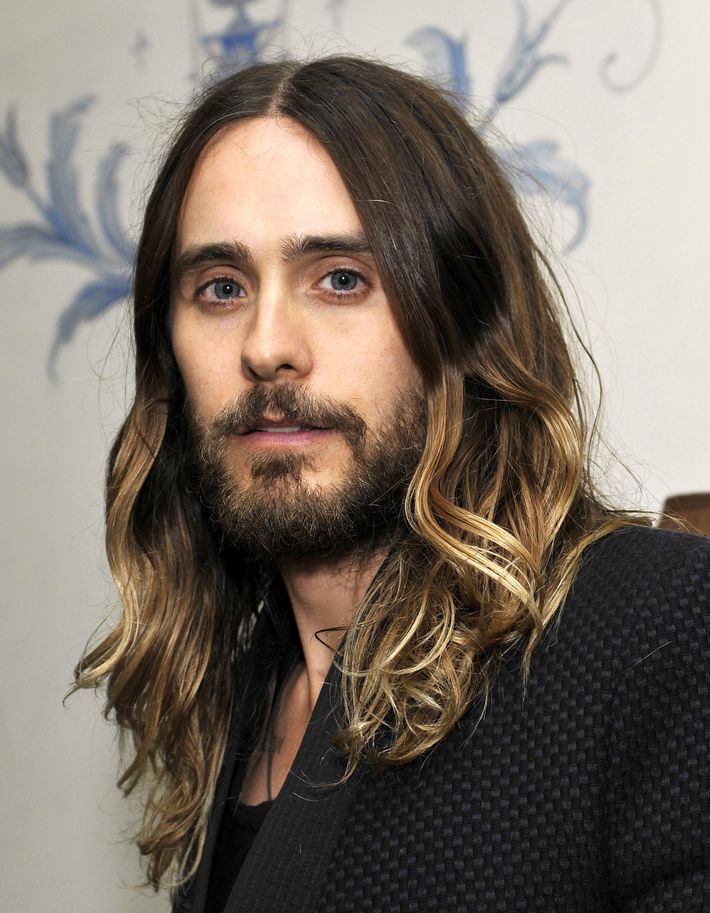 Chase Kusero:  Ombré is something I have been doing for years on many women. Jared and I wanted to bring true rock star back, and that's long, uncut, perfect hair. Recreating grunge without looking bleached out is what was in mind when I started painting.
I think what makes Jared's ombré so good is that I do it, plus, he's the first guy to rock it. Maybe we call it Hommebré. Jared has great hair to begin with and the way it's cut is just as important. He is naturally cool and his hair is cut to hang right. His hair indicates that he is a iconic rock star from Mars.
My technique used on his color requires no touch-ups. It's about a feeling. If we feel like it needs a bit more, we do more. For the red-carpet and awards season, the focus will be on his amazing performance in Dallas Buyers Club. His hair will just be a red-carpet bonus.
Like this? You'll love us on Facebook. Follow The Cut now!