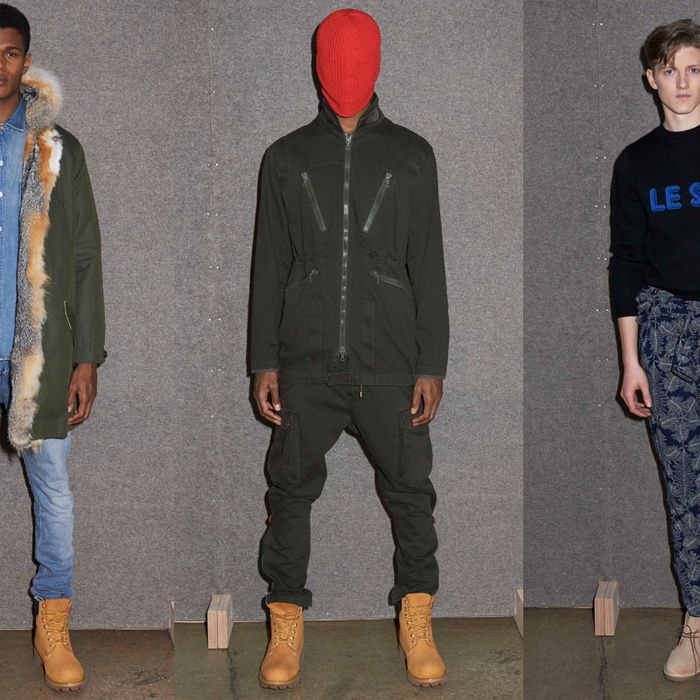 PARIS — On Saturday, Kanye West unveiled his second capsule collection for A.P.C., hosting a surprisingly intimate presentation at the A.P.C. atelier on Rue Madame. Members of the media were invited to relax on an expansive leather sofa while West and A.P.C. founder Jean Touitou personally walked us through their ideas for fall 2014/2015.
This season, Touitou drew on several muses — men he recalled from his "memories" for their elegant style, adding that elegance "was the point of men's fashion." The notable figures who made the cut were Yves Saint Laurent, Marcel Proust, Samuel Beckett, Marc Jacobs, Kurt Cobain, and of course, West himself. The fall collection was divided accordingly, by character.
Touitou first introduced us to his "Yves," which meant models wearing sophisticated wool suits, requisite neckties, and even frames made by the same maison Saint Laurent himself frequented. "It's almost impossible to find a picture of Yves Saint Laurent looking bad," offered Touitou. "I believe he mastered the art of measuring — one could never say his personal style was over-the-top."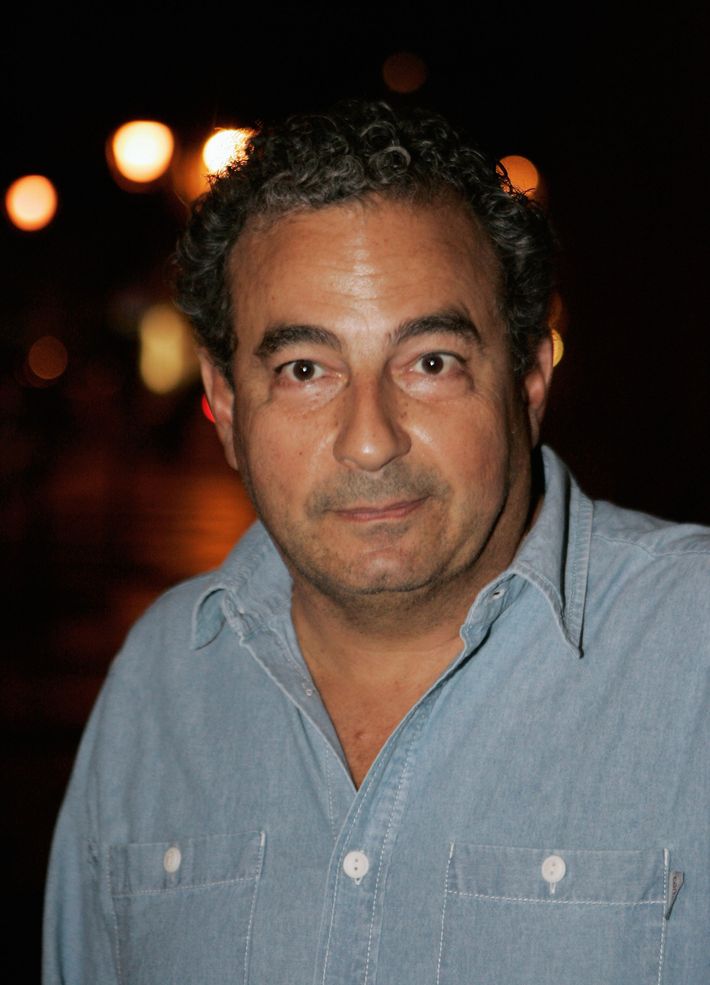 Marcel Proust followed, with models in luxurious-looking fur-lined coats, and then the Samuel Beckett — whose style actually inspired Touitou to start his company 27 years ago — looking very dignified in a turtleneck and a pinstripe-wool suit. "Beckett had swag," Touitou joked of the novelist and playwright.
The most uncanny resemblance were the styles dedicated to Marc Jacobs, "before he was into yoga," clarified Touitou with a smile. The models resembled Jacobs circa the nineties in their grey chinos, shirts that were cast in a school-uniform blue, and crisp white sneakers. "He had a style of own … the look of a semiology teacher in Princeton, New Jersey," Touitou said with admiration. "I like to call this look Fight for your right not to wear jeans, because I think it's annoying that a man has to wear jeans every day. It's too safe, to me." The Frenchman adheres to his own set of rules when it comes to jeans, saying that he only wears them one day out of two.
To conclude the presentation (which, thanks to Touitou's casual charm, was one of the highlights of the week) were six looks from West's capsule collection — a much more extensive offering than last season. Touitou casually invited West, his "colleague in design," to brief us. West appeared to be a little nervous, saying with a modest laugh, "I have a very bad education in fashion, I kind of learned it on Style.com."
The first looks were part of his "Monochromatic" series: an all-white look featuring baggy pants and a soft knit, and then two double-denim looks, one layered with a fur-lined army jacket. West explained his ideas, saying that he "sized-up" existing motorcycle pants from A.P.C. and created a sweater that was influenced by women's fashion. "I like going into women's stores and picking clothes, I think that's rock 'n' roll like Kurt [Cobain] and Lenny Kravitz."
When the final trio of looks rolled out — camo-print tees, combat pants, a full-length hooded jacket, and balaclavas — things got a little confessional. "I'm really happy with this, I feel like I'm starting to be able to express myself," he said. "As you might have heard in my interviews over the past year, people have been like, 'No you can't design, you don't have any ideas' … I think it's a big step for Jean, who is a very respected designer with a minimal approach, to give me the opportunity…"
"Sonically, I was doing a painting, and clothing is more sculpture. There's this box that people put you in when they say, 'you can only paint, you can't sculpt'. It's really ridiculous, frustrating, and maddening and if I ever looked mad — I was."
West referred to Jean and the team at A.P.C. as his "family" and declared that despite the haters who were negative about his early forays at Paris Fashion Week, he will be back on the schedule at some stage. In the meantime, he's like, taking notes from his more experienced friends. "That was like getting in a Lamborghini and driving really, really fast," he said of his own fashion shows. "Jean has been teaching me how to drive a little slower."