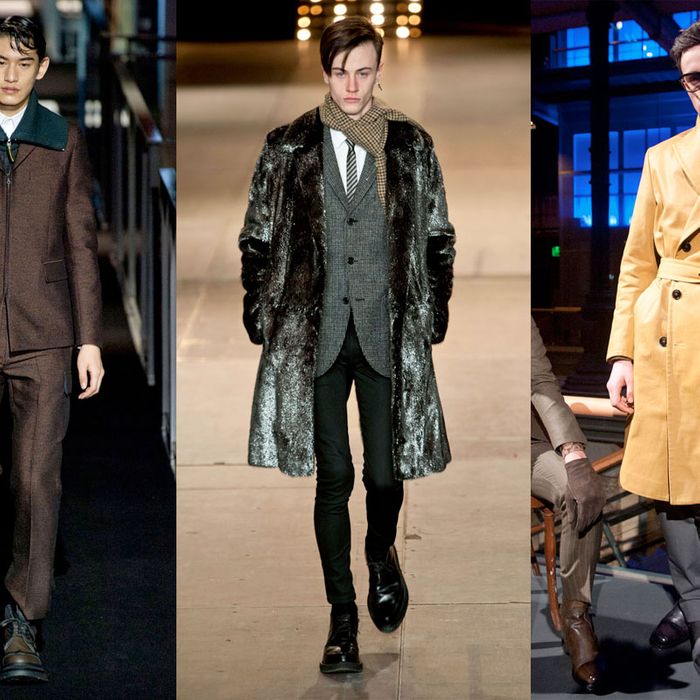 PARIS — If this past weekend at the men's collections in Paris is anything to go by, there'll be some very dapper-looking men come fall. Elegance was the buzzword thrown around at most of the shows, even for more streetwise brands such as Kenzo and A.P.C.
At Kenzo, Humberto Leon and Carol Lim continued their homage to all things Americana. This season, they were drawn to the industrial working-man in the Pacific Northwest, but there were no overalls or hard hats to speak of — their proposition was much more refined. We saw tailored jackets, high-waist suit pants, pea coats, and chunky knitwear, all in earthy tones and soft lilacs. All in all, the collection was quite subdued for the duo, who are normally drawn to high-voltage color and prints. But there was a twist: The everyman's plaid check was reimagined as a digital print; cable knits were laminated, and the shoes were a high-fashion take on worker's boots and clogs.  
"We wanted to showcase the industrial side of America, to explore that functionality, and thought that there could be beauty and elegance found in the ordinary," Leon told the Cut after the show while stopping to pose with Taeyang and G-Dragon, two K-Pop superstars that had a paparazzi vortex swarming about them as they moved through the venue.
At Berluti, sophistication was taken to a whole other level. The Parisian luxury house, headed by artistic director Alessandro Sartori and backed by Antoine Arnault, has been picking up speed since it launched over two years ago. Berluti is where the best-dressed men go for their tailoring, and it's easy to understand why: a double-faced cashmere overcoat practically purred as it glided past, and the slim-fit suits — many of which take 60 to 70 hours to hand stitch — were fitted to perfection. The show also featured man models instead of boy models, which was refreshing, and had all the female editors looking perkier than usual.
Rumors circulated that the final show on the men's schedule, Saint Laurent, had to change venue last minute. I'm not sure what the first option was, but our final destination was hardly second best. Hedi Slimane had a tent erected in the grounds of the Palais des Invalides — Napoleon's place of rest, no less — and the walk up the gravel drive towards the spotlit Baroque building was surreal.
Inside, Anna Wintour and Grace Coddington were seated front row (the couture Spring 2014 shows kicked off an hour later), along with Salma Hayek, Betty Catroux, and Lily McMenamy. There also seemed to be more indie musicians than there are at a music festival, but then again, music culture is always an important part of Slimane's rhetoric. This season, his models looked like band members from varying music genres — rockabilly, punk, glam rock, New Wave. One of the models even bore a strong resemblance to Ian Curtis, and even moved with the same kind of frenetic energy. The collection was a conspicuous mix of British Teddy Boy and L.A. scenesters: a three-piece tweed suit was teamed with a long metallic fur coat, and from then on, it was all rock 'n' roll: leopard-print coats, ruffled tuxedo shirts, and even lace-up leather pants.