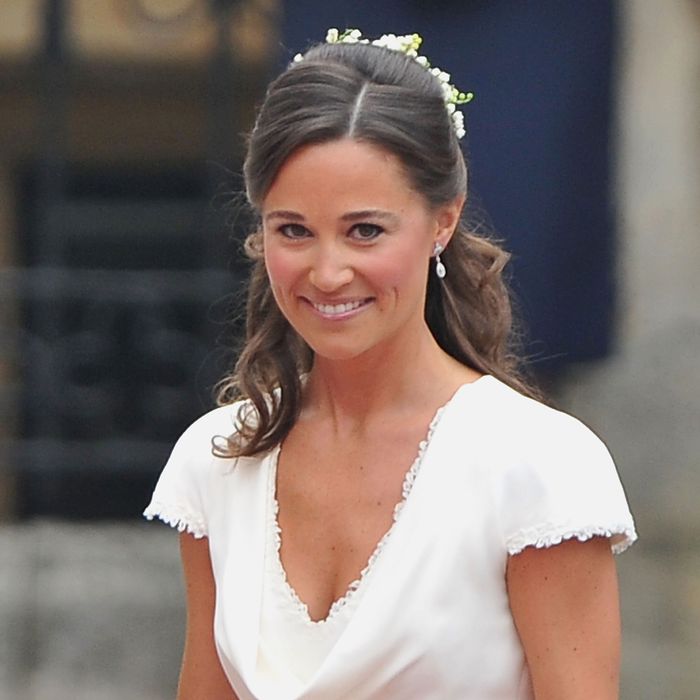 Photo: Pascal Le Segretain/Getty Images
Vanity Fair's sports writer and resident princess in-law Pippa Middleton sometimes uses her column as an excuse to write about butts. Or perhaps as an opportunity to hang with handsome men, or to have them chase her and carry her. But despite these breezy indulgences, the strongest theme in Pippa's athletic reportage is the discipline of her color scheme. In Vanity Fair, Pippa is a magical unicorn athlete who can wear the crispest, palest shades while sitting on the grass and playing in the mud.
All three of Middleton's sports columns find her exercising in white. Her tennis whites, naturally, were gleaming; she even promised she'd wed in them if she could. Pippa's cricket-observing uniform was classically colorless, though she was settling in for some grass stains. But now rugby — the sport of mud and sweat and tears — has her clad in a half-white, half-black uniform as she sprints down a field.
But snowy garments aside, Pippa, tell us more about British sports!
Well, the headline on her rubgy reporting is "My Kind of Ball." For Pippa will eschew the ball gown sort of ball, or even the concept of having a ball. Her favorite ball is a rugby ball. It is an oversize chestnut of misshapen lumpy leather, and Pippa loves it.