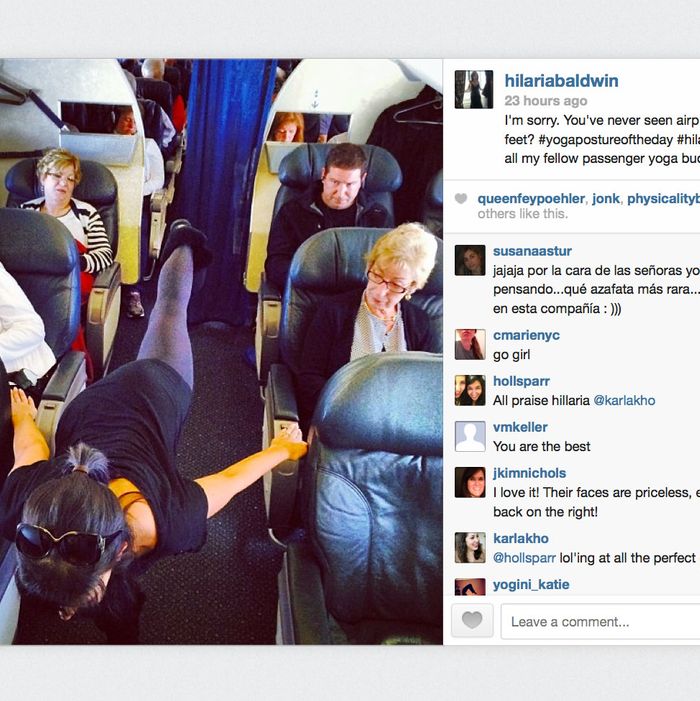 Photo: hilariabaldwin/Instagram.com
Hilaria Baldwin has been known to randomly break out a stretch. Recently, according to the celebrity yoga instructor's Instagram, she did it at 35,000 feet. Needless to say, Baldwin's form was perfect. Her pose (airplane) matched her location (airplane). But the weary looks on the faces of her fellow first-class passengers spoke for many of us. As followers of "Page Six" know, Baldwin's New Year's resolution was to post a yoga posture every day, no matter what she's wearing or where she is (except, presumably, celebrity funerals), with the hashtag #hilariaypd, for "yoga posture of the day." Husband Alec appears to take the pictures.
#hilariaypd is reminiscent of planking, but not inclusive enough to become a meme. I couldn't pull off this royal-pigeon pose, for example, if I were in a yoga studio, on a red carpet, or under threat of injury or death.
Instead, Hilaria's yogagrams are more like passport stamps, offering bragging rights under the guise of an official record of the new mom's journeys in flexibility and fame. Hilaria Baldwin has done yoga on a plane. She's done it on the red carpet! She'll do yoga …
On a rain-slick city street, in heels.
On talent agency William Morris Endeavor's conference table.
In her (opulent) lobby.
In bed, post-baby.
On Alec Baldwin.
Among ancient ruins.
On a stroller, in heels.
In a crowded park.
In the un-plowed, #deblasiosny snow.
Over a cupcake.
With the fishes.