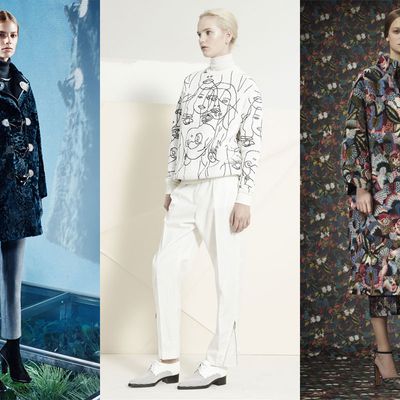 In a candy-centric party on Monday night, Stella McCartney presented a solid, balanced pre-fall collection with abstract geometry and figurative artwork as its unifying themes. The first few looks featured hand drawings by Gary Hume embroidered onto contrasting jacquards, as in the case of one standout coat that flaunted white threadwork popping against a heavy, structured black wool. Each look seemed to exaggerate the shape of things in order to delight the eye with the unexpected, as in the huge jacquard polka dots of one trench, or the actual silhouette of an asymmetric satin dress — all done without sacrificing the inherent comfort and sensibility of each piece. Not stopping at form or function, most of the looks boasted sustainable wool and wood, organic fabrics, and biodegradable rubber soles on pointed loafers.
Leave it to Balenciaga to be at the forefront of technique: Alexander Wang's pre-fall collection riffed on outdoor performancewear played up to couture proportions, all with a unifying trompe l'oiel concept of sorts: nothing really is as it seems at first glance. One coat in particular featured strips of shearling embroidered in spirals — the overall effect looked like a jersey-stitch under a magnifying glass — or simply Wang twisting new ideas into the house's DNA code. Midnight-blue astrakhan fur mixed with grey and black cocoon shapes, and graphic black-and-white leather was delicately woven to create a contoured shape without seams. In keeping with the functional aesthete theme, toggle clasps appeared more as functional jewels than simply as hardware.
Louis Vuitton's pre-fall vibe bounced happily between a go-go chalet and the glamorous thirties, with lopsided fur hats and skirts featuring sequined, embroidered mesh festooned with fringe, topped off with cashmere and warm wools. Greens and warm pinks were rendered in thigh-high boots that featured the house's initials in an abstracted camouflage, visible only if you looked closely enough. Earth tones were done sumptuously — always in crepe wool, furs, and accented with a sequin flourish. On the bodices of some dresses, the house's insignia came in madcap sequin lettering.
Valentino continued carrying its torch as the intelligent answer to every girl's dress-up dream, with heavy embroidery, brocade, and lace — all dedicated to the "melancholic frivolity" of the butterfly. This butterfly theme managed to weave its way through most all of the 78 looks, each one literally as fantastic as the last, and all hinging on a psychedelic nostalgia. Standouts included looks that engineered painted feathers cascading down shoulders and collars, white rooster feathers  trimming the cuffs and bottom of an ivory wool swing coat paired with feathered brogues, or white organza cut on the bias to create the perfect flounce, both in the skirt itself or the accompanying silk-trimmed collar, and the same flounces reappeared in clear PVC on later looks.