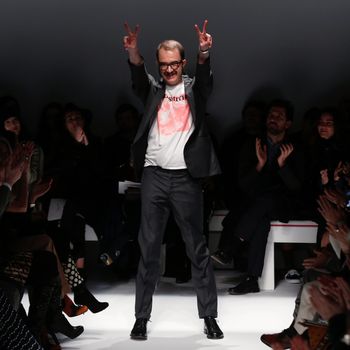 Photo: Francois Guillot/AFP/Getty Images
PARIS — This morning, Marco Zanini launched his first haute couture collection for the revived Parisian house of Schiaparelli, which, until very recently, had been dormant for well over half a century. Honoring the legacy of Elsa Schiaparelli, Zanini's women were bold, eccentric sirens; he dressed them in everything from flowing silk-chiffon dresses, silk crepe pajama pants that were hand-embroidered with glass beads, flat shoes, and fascinators. One even wore a giant, Sonia Rykiel—like red wig. Backstage after the show, Zanini was on the receiving end of a supermodel maelstrom — Carla Bruni-Sarkozy, Elle Macpherson, Ines de la Fressange, and Farida Khelfa all huddled around him shower him with kisses. The Cut caught up with Zanini, who left the top job at Rochas in September, about crafting his debut collection: Schiaparelli's signature irreverence, made fresh for today. 
How do you feel after your debut?
I feel very happy — it was a very exciting day for myself and the team.
What have you enjoyed most about this process?
The last few days when it all came together, and when all the girls arrived for the fittings.

Who is the Schiaparelli woman today?
She was and always will be a nonconformist woman … But today there is not the same shock value that there was in the thirties, so I think the Schiaparelli of today is an extremely confident woman who doesn't want to conform to a certain cliché.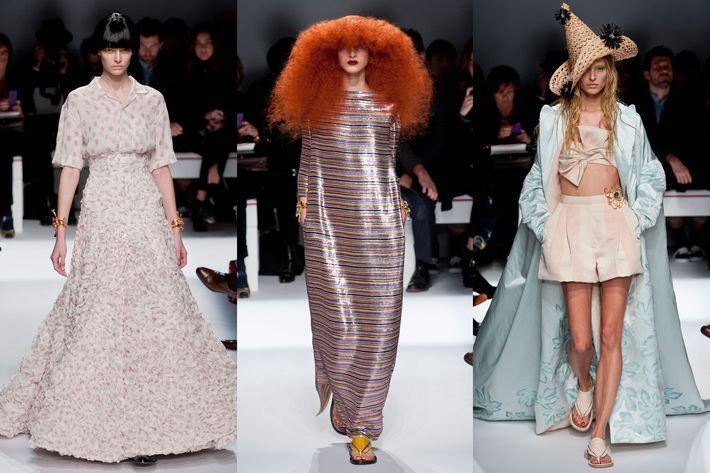 What was your starting point for the collection?
Well, I started to work with all of the fabrics and with the embroidery — all the workmanship that is involved with haute couture. Of course it's challenging for a designer, because there is that level of excellence that needs to be maintained. But it's really exciting to be in Paris because it was all made here, in the kind of incredible ateliers that can only be found in Paris. We were chasing the absolute excellence in sartorial quality.
There was a great sense of humor about this collection, was that an important message?
Well, you know, I would say there was a sense of irreverence.
It was interesting that you presented T-shirt shapes, flat shoes, and even shorts in the collection, and then mixed those with flowing dresses.
Well, I think that my mission here is to make Elsa Schiaparelli's irreverence and elegance contemporary and modern for today and for tomorrow.
What was the idea behind the accessories?
The ivy leaf was a leaf that Schiaparelli loved, so I wanted to do an homage by producing accessories out of these leaves.
So you designed all of the accessories?
Yes everything. We used the ateliers, but I designed them.
You had a great cast of models [Stella Tennant, Jesscia Stam, Saskia de Brauw]; this was obviously an important part of the presentation.
It was really crucial and it was a process that we started very early on. I wanted to underline the individuality of each woman. In the show, there were nineteen girls, all very different. Even the makeup was underlining the individuality of each woman. Schiaparelli is about eclecticism, so we wanted to underline and highlight different types of women. But most of all [emphasized that] they were confident women.