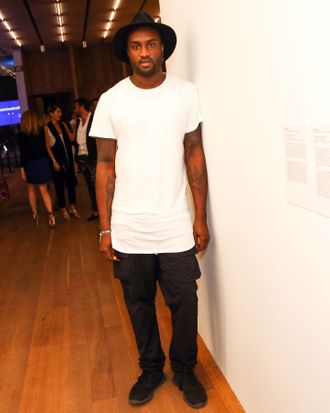 Photo: Benjamin Lozovsky/BFAnyc.com/BFA NYC
Virgil Abloh, Kanye West's longtime right-hand creative man, has branched out on his own with his label Off-White. His mission: to fill the gap between luxury fashion and streetwear.  After a successful first men's season (Colette in Paris and the Webster in Miami are stocking the brand), Abloh will launch his first womenwear line in February. The Cut caught up with him at the men's collections in Paris to talk about architecture's application to fashion, building a streetwear brand with a "high-low mix," and his unlikely style inspiration: Martha Stewart.
 Why did you stop doing Pyrex Vision, and launch of Off-White? Pyrex was the first vision of the idea but that was more of an art project for me. It was a simple exercise of working with one graphic; I had no intention of starting a label or a fashion brand. I just had this idea and wanted to put it out there. I organized it as a fashion film, with models … and just organizing it in that fashion context helped to grab hold of that culture. But when I looked back, I would never have named a fashion brand [Pyrex] that had to consistently put out new ideas. "Off-White," to me, is vague and all-encompassing. So the collection starts with canvas, which is the DNA of the brand [gestures to a neutral-colored canvas shirt with a white screen-painted print]. The DNA of the brand is always screen-print on cut and sewn and/or ready-to-wear garments. I'm playing on ideas from my past, my training as an architect.
You studied architecture? 
Yes, I have a master's in architecture. It's had quite a lot of wide space: I've been able to apply things that interested me — and concepts that I learned about — in my current role as a creative director.
Do you think architecture and fashion share similarities?
Yeah, it's all the same side of the brain. In architecture you have to listen to a client. They might say, In two years time, I'm going to have two kids and I like my morning tea in the sun. Just that simple statement organizes the floor plan … For me, with fashion, I take the same approach. I look at culture and I see what the kids around me are wearing and I see a particular style. I understand the space between fashion and streetwear. The same way architecture tries to fill a void, my goal is to build a brand that's young, but also a brand that plays between the world of fashion and streetwear. The fashion consumer likes a high-low mix — I want to be a brand that represents that.
Speaking of streetwear, there are sneakers all over the runways, and Hood by Air is having a moment. I know you work with Shayne [Oliver, Creative Director of Hood by Air], and he's presenting here tomorrow. Why do you think streetwear is so relevant right now?
I like to look at fashion and relate it to the time when it was happening. It's always more apparent later, when you look back, but I think we're all a part of this new class where we've studied and participated in previous eras but now these brands are galvanizing around the current moment, which is street. It's the current genre and I am taking a personal responsibility to ensure that a high level is brought to it, in a different way.
How?
Street can be quick and it can be cheap, and not layered with ideas. My goal is do it at a high, loaded, intellectual level. I think there's an elevated way to do it.
Are you working with a design team or is it all you?
I have a team in Milan but the design is all me, the graphics as well. Even the furniture in this showroom is by me — I want to do lifestyle, not just clothing.
Are you designing with your own wardrobe and lifestyle in mind?
Yeah, but it's more than that. I've spent a lot of time in my career designing for other people and putting out their vision. This is mine completely.

You have the title of Kanye West's creative director. What does that actually mean?
[Laughs] Essentially we're spent ten years being creative. That is his life goal, he is an artist, and basically I just help him see his vision through.
Is that a full-time role?
Yeah, it can be. That's the thing about this … for me, this is what I am meant to do for my career. I am fortunate to be able to have a team to help put this together but this is my main focus. I needed this to be the core to the legacy of ideas that I have. This is completely my vision and it's recurring. It's daunting, but I like the idea that I kind of just jumped on a treadmill, and that each season there needs to be new ideas.
Will you do womenswear?
Yes, launching that in February.
Will it be similar?
Yeah, I'm really excited. The women's is going to have a pleating story; I'm interested in velvet, and high heels as well.
So it's quite dressy?
Yeah.
Do you have a woman in mind when you're designing?
It's an international style girl. The girl at the Chateau, the girls in Paris … it's a girl who can do both high and low fashion, or more interesting: make high look low. Then there's the graphics. The color-blocking is also my thing; it will always be organized in this way.
I know you've said you were inspired by Martha Stewart for your first collection [spring 2014], which was interesting. What else do you draw upon? [Laughs] Ha, yeah, I was. I was thinking about Nantucket and what it would be like if Martha Stewart was growing up now, what might that be like? That was interesting to play with. But I'm mostly drawing on the people I meet. It's real people, in the moment. As a young designer in tune with culture, I'm interested in the lifeline of trends.
So you're looking more to the street than, say, what's happening at the shows?
Yes, that's kind of my mission statement, to represent the 'now'.
Would you consider doing a show? You were involved in Kanye's presentations in Paris, so you know how full-on a show can be…
Yeah, super full-on. That's the trajectory for sure, but I'm more interested in the idea of presentation, though. I think there's a gap — no one really rethinks the idea of a show. I haven't figured it out yet, so when I do I'll be even more confident. But I just have this theory … you can get in the same rut. I want to embrace the idea of being naïve and like a novice, so a random, good idea might come through.