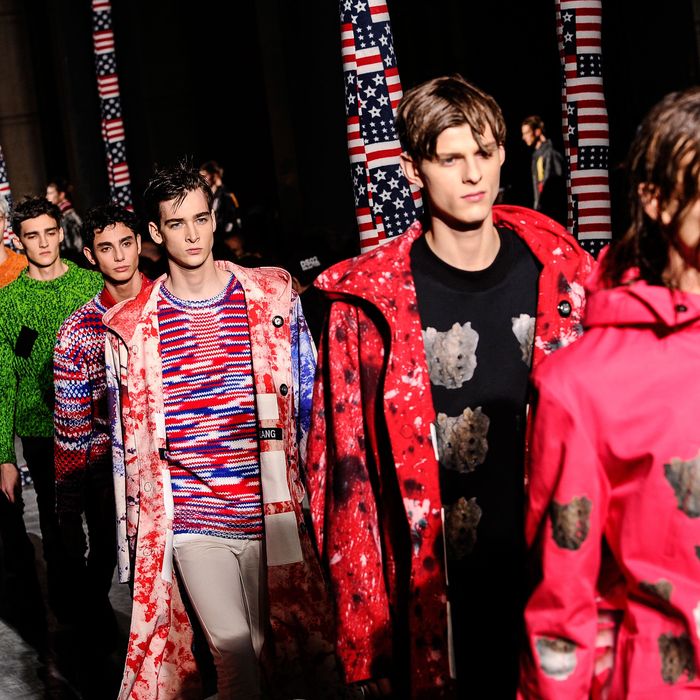 Photo: Zacharie Scheurer/Corbis
The weather is Les Miserables in Paris at the moment: There's sludgy rain and the metro smells like damp socks, which makes for unpleasant conditions for the men's fall 2014 collections. At least it's men's and not peacock season (a.k.a. women's), so showgoers feel fine about wearing weather-appropriate fashion and not the latest It item from resort that has just arrived in stores. Still, we all huddled under umbrellas outside the Raf Simons and Sterling Ruby show last night, grumbling about the wet and the cold while reassuring ourselves, "At least we're in Paris, right?"
Raf Simons announced last year that he was partnering up with L.A.-based contemporary artist Sterling Ruby on this collection, a coupling that had people scrambling for a ticket to this show. The designer's reverence for the art world has been well documented — be it his precise reference points each season at both Dior (where Ruby has been featured) and his own line, or his extensive private collection of contemporary art — but this project took things to a previously unexplored territory. "We did all of it together," Simons told the Cut after the show. "This is a unique situation, just for this season, but it's a new brand. I really don't see this as my brand, it is our brand now."

Inside the venue, Ruby's involvement was made instantly apparent; soft sculptures made of printed fabric (reminiscent of his 2013 "Vampire 96" artwork) were draped in archways over the runway. As for the fashion, the shapes were Simons at his best: cropped stovepipe jeans, oversize outerwear, cropped knits, and jackets. But the fabrics were where things really got interesting. The duo played around with patchwork and collage, working with fabric appliqué as well as digital prints that were made to look like stickers — some of the coats had the look of a rock star's customized guitar case.

While the duo put no limits of their creativity, the collection undeniably has great commercial appeal. A series of brightly colored, bleach-spattered denim looking ostensibly like an artist's paint-splattered overalls will have dudes queuing when they arrive in store. As will most of the collection, which showed Simons' punk sensibility — complete with the driving beat of the Pink Floyd soundtrack — at its best.
Simons and Ruby first met nine years ago, when the designer was looking to buy some artwork, and last night, it was obvious that the two have become great buddies. They shared a hug when they took their bow at the end, and even eschewed the usual backstage exclusivity, emerging outside post-show sporting huge grins and clutching cans of Coke Zero. "I was a little nervous, but I think we pulled it off!" said Ruby, who seemed to be in a happy daze.
"We didn't even have to think it over much," Simons commented of their creative process. "The reason why we became such close friends [is] because there were so many mutual ideas, we already had such a shared vision, aesthetically and conceptually … This idea was to bring the two worlds together and to really think about how we think a man should dress."
A$AP Rocky, the unofficial president of the Raf Simons' fan club, certainly got that message: "I loved the clothes, that military parka with the patches — I want that!" he said from the front row, flashing a smile at the cameras. "The way that music inspires people, fashion inspires me, and Raf is one of my icons. He invited me personally; he's my guy."