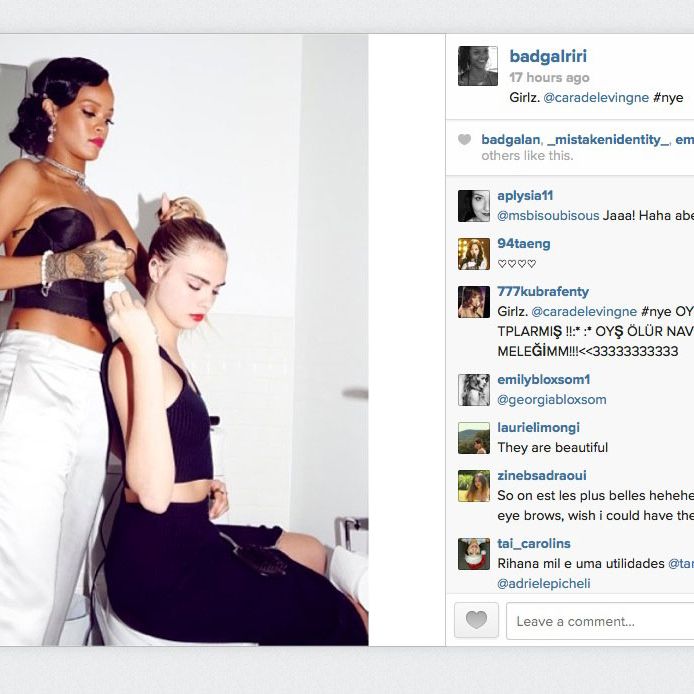 Photo: badgalriri/Instagram
Rihanna's New Year's Eve was just like ours: She made dinner for friends at her apartment before going out, did her BFF's hair, and wore a crop top. The only differences, really, are that Rihanna had a chef to help her make the dinner, her best friend is Cara Delevingne, and we definitely didn't go out go to Jay Z's 40/40 Club after.
RiRi tirelessly documented the entire evening, Instagramming everything from the getting-ready process to the werq-ing and the dining to the toasting:
The nearly 50 Instagrams also gave us a peek into Rihanna's cute little one-bedroom apartment, including a glimpse of at least one of her bedroom turned walk-in closests when she was "picking a clutch…task!!!"Another Insta gem from the evening: Rihanna and her friends recorded a video where they each sang "Happy New Year!" at the camera in a slightly awkward yet endearing manner. See, despite the fur coats, veil crowns, and casual culinary bustiers, celebrities still post awkward-but-funny-at-the-time-you-had-to-be-there videos and their feet hurt at the end of the night.