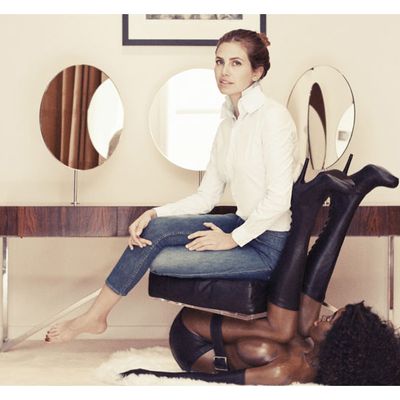 Miroslava Duma, the jorts-wearing Russian street-style star turned fashion editor, found herself issuing an apology yesterday for an act of unintentional racism on Martin Luther King Day. Duma's website, Buro 24/7, published a photo of Dasha Zhukova, a Russian socialite, art collector, and Garage editor, perched atop a chair by Norwegian artist Bjarne Melgaard comprised of a comfy leather seat attached to a statue of a naked, bonded black woman. Naturally, people were pissed.
To her credit, Duma quickly issued an apology on Instagram and cropped the image to remove the offending piece of furniture/sculpture. She wrote: "The chair in the photo should only be seen as a piece of art which was created by British Pop-artist Allen Jones, and not as any form of racial discrimination." But alas, the Internet did not agree on the neutrality of the message projected by a rich, cloistered socialite sitting on top of a bound black woman.
Not even getting into the fact that this is likely part of her personal collection, and that perhaps she sits in this chair often, here's a tip: If you're going to defend your blunder by crying art, perhaps understand the totality of the work's historical context and the international audience you reach on Instagram. Forniphilia is about bondage, sexual objectification, submission, and subjugation. Allen Jones's women chairs and tables were (and remain) highly controversial. His work Chair, 1969 was damaged by feminist protesters in 1986 when they doused the work in paint thinner. And while yes, Melgaard's piece is meant to act as a commentary on Jones' work, critiquing gender and racial politics, it is also incredibly controversial (and questionable) in it's own right. The Buro 24/7  team probably should have considered all of that subtext.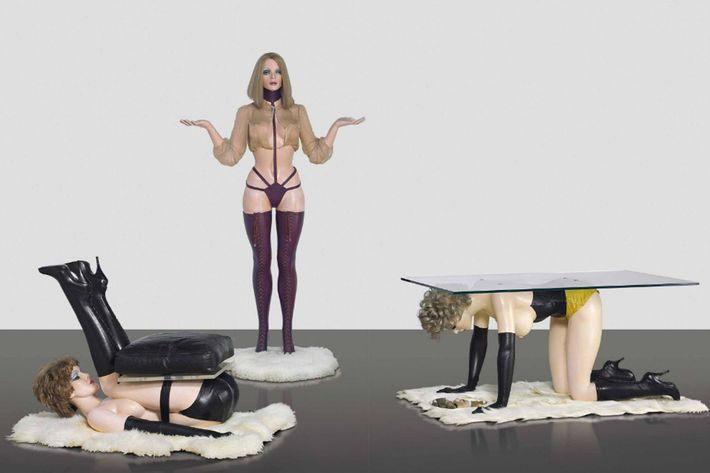 UPDATE: Dasha Zhukova has now issued her own statement, via a spokesperson:
The chair pictured in the Buro 24/7 website interview is an artwork created by Norwegian artist Bjarne Melgaard, one of a series that reinterprets art historical works from artist Allen Jones as a commentary on gender and racial politics. Its use in this photo shoot is regrettable as it took the artwork totally out of its intended context, particularly given that Buro 24/7's release of the article coincided with the important celebration of the life and legacy of Rev. Dr. Martin Luther King, Jr.

I regret allowing an artwork with such charged meaning to be used in this context. I utterly abhor racism and would like to apologize to those offended by my participation in this shoot.

Garage Magazine has a strong track record of promoting diversity and racial and gender equality in the worlds of art and fashion, and will continue in our mission to stir positive debate on these and other issues.