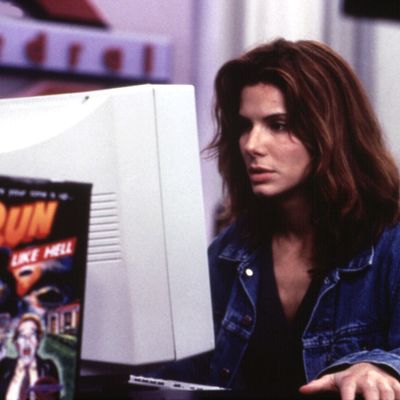 Photo: Courtesy Everett Collection
In 1995, Sandra Bullock starred in a film about the evils of the World Wide Web. It was called The Net, and it was a cautionary tale.
Nineteen years later, Sandra Bullock Googled herself — and what she saw shocked her, because she had not heeded the warnings of The Net. No, she was like a newborn babe, just emerged on the earth, who just started teething and can point to stuff. She learned the hard way that the Internet was not a pretty place, not at all!
But shall we give our sympathies to Bullock the Bambi, just now stumbling upon an insult-scorched Internet? No, because at least 34 celebrities who we were able to locate through Google have said that no one should Google herself. Here are their dispatches from beyond the pale:
Alexa Chung calls it dangerous.
Kat Dennings says it's poisonous.
Googling oneself is one of Taylor Swift's top five fears in the universe.
Jonathan Franzen says that not Googling yourself is the new not reading reviews of your books.
Miley Cyrus refuses, no way, she will "never do that shit again."
Chloë Sevigny would literally rather chop off a finger from her own goddamn hand than Google herself.
Julia Roberts decided not to.
Tim Tebow says he's just too busy.
Susan Sarandon doesn't even know how, darling.
Sarah Jessica Parker never has, never will.
Alexander Skarsgård is frightened to.
While Tina Fey credits Google for being a useful web site, she says she doesn't Google herself.
Kellan Lutz doesn't, but he heard that everyone on there thinks he's gay.
Ayelet Waldman doesn't, and she doesn't have an opinion on her Wikipedia entry either.
Reese Witherspoon says it's the darkest times over there.
Anderson Cooper has a whole self-talk speech when he feels like Googling: "And if I do it, I'm like, 'Don't do it.' I have to talk myself down sometimes. I'm like, 'Don't do it.' I have like A-N-D-E in there and I'm like, 'Don't do it.' And I'm like, R-S-O-N. And then I'm like, 'No, I'm not gonna do it.'"
Nicki Minaj says, "I don't need to Google myself."
Political correspondent Tucker Carlson says he doesn't do it.
Brad Pitt and Angelina Jolie don't let their kids do it.
Ashley Olsen says it's vain.
Anne Hathaway changes her mind about it approximately five times in a couple minutes, but says it's ultimately filled with lies.
Elizabeth Gilbert says the first rule is not to Google yourself. Chris Hemsworth also places self-Googling as his first no-no.
Amy Poehler says she would only do it if she could see herself by Steve Carell.
Jason Segel doesn't.
Megan Fox restrains herself.
Sean Kingston doesn't, but he says that Justin Bieber loves it.
Blake Lively doesn't even Google herself and she is creating a web site that is, perhaps, the totality of the Internet.
Once Google scarred Jennifer Lawrence "for life."
Chrissy Teigen doesn't, not ever.
Eva Green doesn't because of a nipples discussion board.
Sienna Miller says only when she wants to feel really terrible, so, never.
Kim Kardashian doesn't for fear of false accusations regarding twins.
Though Bullock failed to heed these warnings, not every celebrity reports bad experiences. Marge Simpson Googled herself in 2007 and was pleased she was so popular, and also pleased that it wasn't masturbation. Robert Downey Jr. thinks it's a hoot. George Clooney, meanwhile, used it to make a masturbation joke, and says it's what fills his afternoon. It's Adele's evening activity. Robert Pattinson uses it as damage control. It's the seventh step of Al Sharpton's daily media diet. And, most importantly and most inspiringly, Google is how Paris Hilton keeps her diary.