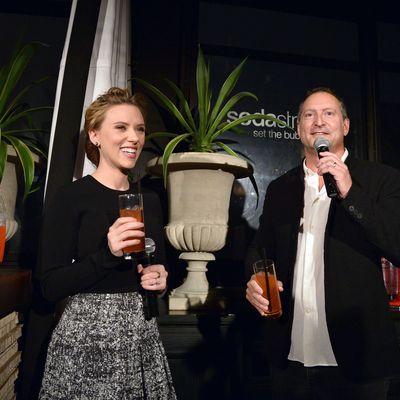 Photo: Mike Coppola/Getty Images
Scarlett Johansson has broken up with humanitarian group Oxfam International over her endorsement of SodaStream, the AP reports. The decision was mutual and amicable, brought on by irreconcilable differences over Israeli settlement trade. Oxfam opposes it; Johansson is under a very lucrative contractual obligation to endorse it.
As of the Super Bowl, Johansson will be the new face of SodaStream — whose magnificent and divisive soda makers are made, in part, in a settlement factory in the West Bank. In response to criticism from Boycott Israel groups, Johansson issued a statement saying her personal politics align with the new gig. "I remain a supporter of economic cooperation and social interaction between a democratic Israel and Palestine," she said. "That is what is happening in their Ma'ale Adumim factory every working day."
The dust-up also seems to have forced the hand of SodaStream CEO Daniel Birnbaum, who gave a rare interview and tour of the West Bank factory to the Jewish Daily Forward. SodaStream opposes settlements internally, according to the Forward's report, but Birnbaum repeated claims that closing or relocating its settlement factory — a vestige of the company's previous ownership — won't help the Palestinian cause.
It's rare that signing on to be a "global brand ambassador" requires so much actual diplomacy, but Johansson seems totally up to it.