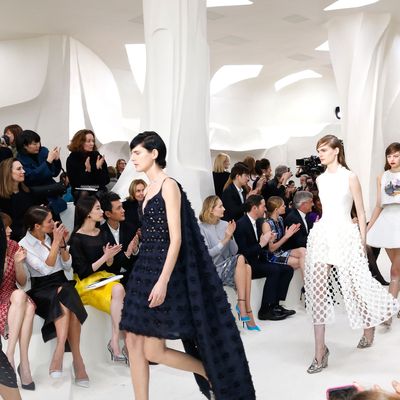 Photo: Petroff/Dufour/Getty Images
Raf Simons presented a striking and contemporary haute couture collection for Christian Dior this afternoon in Paris, citing his inspiration as "the idea of intimacy around couture … the emotional experience of it; the relationship between the clients, the salon, the women."
The haute-couture collections inspire such a high level of showmanship that it's easy to forget their traditional purpose: to entice a client. That client being a prestigious, but dwindling, group of wealthy women who snap up dresses in the same price range as small cars. As such, many of these luxury brands host two shows so they can accommodate both the press and private clientele, but today,o Christian Dior hosted three. The maison's seamstresses as well as a group of fashion students were invited to view the final presentation — surely a major fan-out moment for the students present.
The show took place in a relatively small tent at the Musée Rodin and the entire set, including the seats, was constructed from white plaster. It was a little like being in Fred Flintstone's cave — and the idea was that this shapely setting echoed the female form and the intimacy involved in the handmade creation of the haute couture collections.
Architectural shapes often inform Simons, and this collection saw an exploration of various silhouettes: white plissé babydoll dresses that were asymmetrical; the iconic Dior bar jacket, cast this season with voluminous sleeves, flirty tulle skirts worn with tank tops, and shift dresses with capes — for those of us who dream of being haute couture—wearing superheroes.
The shorter dress lengths looked fresh and showed off an array of interesting footwear, such as heels with built-in suspenders, as well as bedazzled slip-on sneakers (yes, sneakers). But as ever, the pitch was in the details, and this season, almost every garment practically shimmered with the most exquisite embroidery.