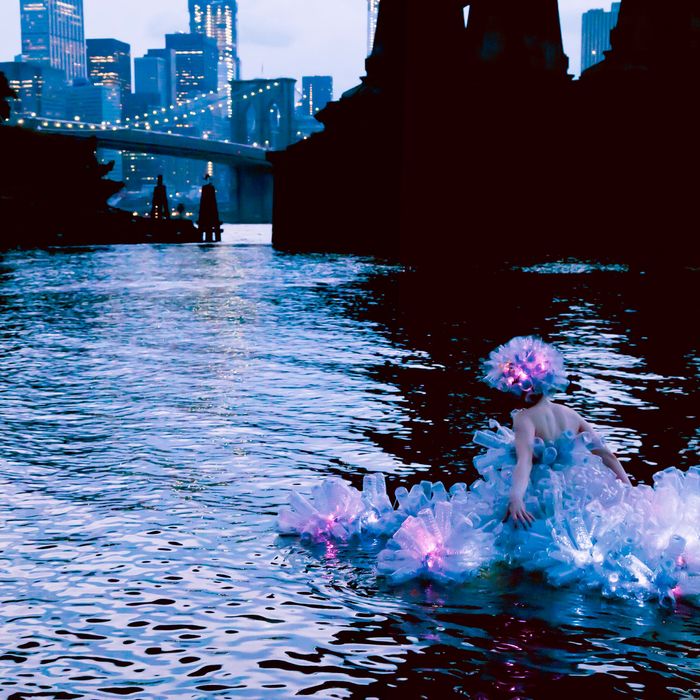 The marriage between fashion and conceptual art has often been a happy one — think, for example, of Elsa Schiaparelli's collaboration with Salvador Dalí — but now one artist is creating wearable art that she hopes will serve as a message about technology, society, and global warming.
Dominique Paul, who is from Montreal but has held artistic residencies in New York, is currently showing some fashion-heavy material in Unnatural Selections, her show at the Miyako Yoshinaga gallery in Chelsea. It consists of prints of the artist morphing into bodybuilders, as well as models found in a Kenzo catalogue transformed into Baroque illustrations. (She appropriated these techniques from a seventeenth-century book by Maria Sibylla Merian, a female naturalist who studied the metamorphosis of insects.) On the adjoining walls is Paul's photo series called Prometheus, in which she has designed a headpiece of Christmas lights that resembles one a disco version of Marie Antoinette might wear.
And, this Saturday at the A.I.R. Gallery in Brooklyn, Paul will introduce a new video: The Migration of Arthropods, in which she transforms, Kafka-like, into a giant creature. In the short film, she wears one of her creations: an otherworldly dress, constructed entirely of plastic bottles and waterproof votive lights that serve as her flotation devices (and protective gear) as she swims in the polluted East River. It's simultaneously eerily beautiful and deeply bizarre.
Paul spoke to the Cut about why she's interested in the concept of metamorphosis, how she creates her pieces, and the challenges of an East River swim.
How did you come up with the idea for Unnatural Selections: pairing Baroque drawings with fashion images — some from Kenzo — and of those, only men?
I went to Caesar's Palace Las Vegas in 2010 and took a Kenzo catalogue from the store. It was beautiful. I bought some muscle magazines, like Men's Fitness. The men are monstrous, they show their flesh and their veins. It's tactile; it's generous. With the men, you want to see the shadows and all the creases. Because the shape doesn't look very human, when you cut it and you take a small part, it becomes abstract. It's like I'm growing flesh.
The Baroque metamorphosis of insects is very sensual. In the style in which they are drawn, the flesh is very present. By pairing them with the male parts, I'm making my own new species. I play with them. I wanted to talk about how these men remodeled their bodies so I remodeled new beings. It reflects on genetic engineering today.
In women's fashion magazines, the body has become more and more erased, Photoshopped. I didn't use women because they don't look real, they are too retouched.
How about the video for the Migrations of Arthropods, in which you change form to go into the outside world? What's the message for the environment, and how long did it take to make that dress?
One thing I'm saying is, We're not doing much about global warming, so better get ready for stormy weather. We shot the submersion into the East River in Dumbo under the Manhattan Bridge. The view was fabulous. The first part was done during my residency in Governor's Island. I looked out three windows facing lower Manhattan. Nobody was there when I arrived. It was empty and I had this city with all these people in front of me. I was thinking about them going to work, into towers, artificial surroundings where you can't open windows, a bit like an aquarium. So I started to build the initial suit: the mask and shell on my back are from bottles people left on the island, then a first suit of plastic egg crates, baby spinach containers. I was trying to transform myself in a greenhouse to protect myself from the environment. I was trying to think of a different way to float, like a bug on its back. That formed the Kafka connection.
With the gown, I thought, if I lie on my back in a beautiful dress, I will look like Ophelia (who floats dead in the water in Hamlet). So I had to find a way to keep the dress from rising under my arms in the water. So, I did tests in a pool first, with clear plastic water bottles that were 500 milliliters each. I used the cap on each to secure them onto a net, which I got in a flower nursery, which was used to protect flowers from birds. I never counted how many bottles I used. Hundreds of them. I ordered submersible tea lights for weddings and placed them into the bottles. And a couple diving lamps went under my skirt. The use of light transforms banal material and re-enchants it. The whole process — counting the two months to design the dress — took eight months.
What was the most difficult part of making that video? Not knowing what's at the bottom when you're entering the water. I bought rubber-soled swimming shoes in Coney Island. At one point, I was advancing across a big beam on the bay side Coney Island where there's a view of the Verrazano Bridge. I was on all fours and there were broken bottles sticking out of the sand. The water was very clear but very acidic; I felt it on my skin for a week.
You focus on fashion and incorporate it consistently into your work, creating your own kind of couture, if you will. Did you ever want to be a fashion designer? Are you self-taught?
I did consider it, but decided I didn't want to be worried about the marketing aspect of fashion. It's complicated. I wanted the creative freedom. It's nice right now as an artist, if you look at society, everything is hybrid. To combine things together that were not combined before. I can sculpt. My mother taught me how to sew. I see form. I am obsessed with the body and how it reacts to changes in technology.
Dominique Paul: Unnatural Selections Closing Reception: Friday, January 17, 6–8 p.m.; Miyako Yoshinaga Gallery, 547 West 27th St., Suite 204. After January 18, the exhibition can be seen by appointment only.
"Migrations of the Arthropods" video screening: Saturday, January 18, 3–5:30 p.m.; A.I.R. Gallery, 111 Front St., #228, Brooklyn.
This interview has been edited and condensed from its original version.