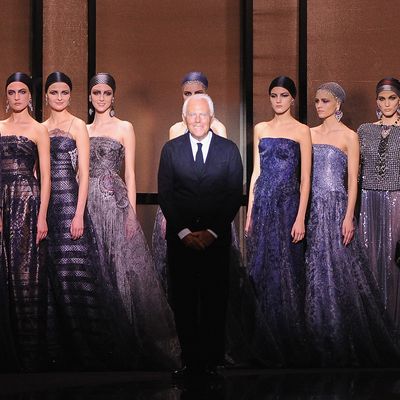 Photo: Pascal Le Segretain/2014 Getty Images
PARIS — Giorgio Armani turns 80 this year. And while there's no talk of retirement, last night's extravaganza — which saw Armani's One Night Only exhibition come to Paris (it's already swung past London, Tokyo, Rome, and New York) — might have had some people thinking along those lines, or at least reflecting on his monumental contribution to the industry.
The event — which included the presentation of the Armani Privé spring 2014 couture collection and a sit-down dinner — spanned two floors of the Palais de Tokyo that had been Armani-fied and decked out in the brand's signature black and metallic color scheme.
After enjoying Champagne on arrival, guests, including actress Kristin Scott Thomas, were seated and presented with Armani's muse for the season: a glamorous, bohemian nomad swathed in the finest silks. Models walked languidly down the catwalk in metallic and embroidered garments that shimmered as they moved; silk headscarves and pendulous earrings added to their exotic appeal.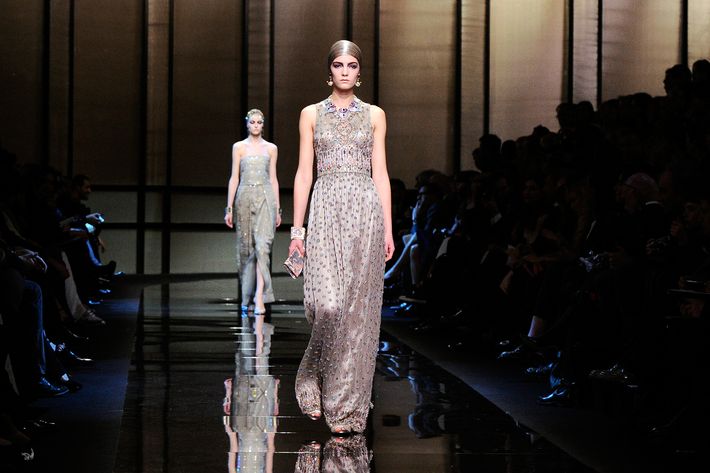 Several of the more elaborate looks — the full-length lace dresses with hand embroidery, an embroidered trouser suit in gold silk satin — inspired clapping from the audience, particularly from some of the front-row clientele who were decked out in their couture. One elderly man, who had clearly been persuaded to tag along to the show with his glamorous wife, found it difficult to stay awake in the front row (the show began just after 9 p.m.). She nudged him every now and then as a look sailed past, at which point he would make some sort of gesture of agreement.
After the show wrapped, guests were escorted downstairs to the exhibition, which featured highlights from the Armani Privé archives. A four-course dinner for the 400-plus guests followed, though, Mr. Armani took his leave early, leaving his admirers to carry on the revelry.