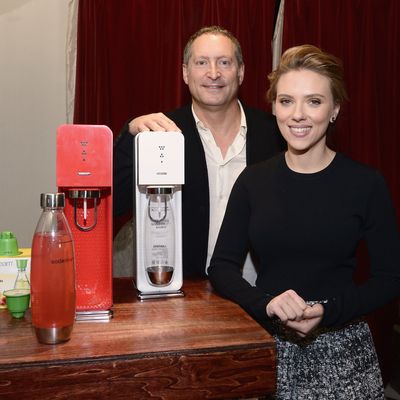 Photo: Mike Coppola/Getty Images
SodaStream "global brand ambassador" Scarlett Johansson sees no conflict of interest in her endorsement of the so-called conflict seltzer. An Israeli manufacturer of environmentally friendly countertop carbonators, SodaStream's controversial West Bank factory has made buying and owning its trendy kitchen appliances a kind of proxy for the Israeli-Palestinian conflict among lefty political types in the U.S. Opponents say SodaStream exploits and legitimizes the occupation; the company says it gives Palestinians good jobs, promoting cooperation. The apathetic and the guilt-ridden hide their SodaStream machines when company comes over.
For her part, Johansson says that she "never intended on being the face of any social or political movement" because of her affiliation with SodaStream. But since we're all talking about it, the Oxfam Ambassador and Obama supporter offered to "clear the air." She said in a statement sent to the Huffington Post:
"I remain a supporter of economic cooperation and social interaction between a democratic Israel and Palestine. SodaStream is a company that is not only committed to the environment but to building a bridge to peace between Israel and Palestine, supporting neighbors working alongside each other, receiving equal pay, equal benefits and equal rights. […] I believe in conscious consumerism and transparency and I trust that the consumer will make their own educated choice that is right for them. […] Even though it is a side effect of representing SodaStream, I am happy that light is being shed on this issue in hopes that a greater number of voices will contribute to the conversation of a peaceful two state solution in the near future."
Spoken like a seasoned beverage diplomat.