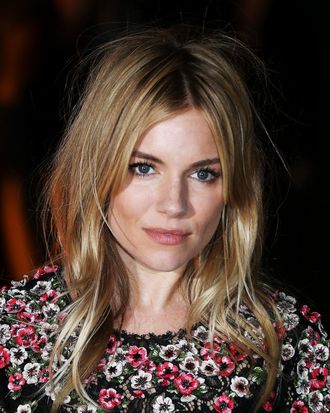 Photo: Chris Jackson/Getty Images
After a parade of unbelievably boring reveals, here at last comes an interesting, salacious, invasive — albeit decade-old — tidbit from the News of the World phone-hacking trial. In 2005, when Sienna Miller was going out with Jude Law, she left a voice mail for Daniel Craig that seems very Affair to Remember:
Hi, it's me. I can't speak, I'm at the Groucho with Jude. I love you.
News of the World editor Andy Coulson called this "brilliant."
Coincidentally, the very day that this voice mail played in court and took the tabloids back to 2005, Sienna Miller was profiled in British Esquire, reminding us of her bad, good old days (the aughts) and her efforts to overcome gossipy attacks. The piece is titled "Sienna Miller: Girl Interrupted," as in, "girl's career interrupted by tabloids." Though she speaks of repairing burned bridges, staying away from the limelight, et cetera, she did bring the profile writer to the Groucho Club as part of their drinks/party/interview agenda. Yes — the Groucho, where she was with Jude and couldn't speak. Burnt Sienna, did you not learn not to revisit the scene of the crime?