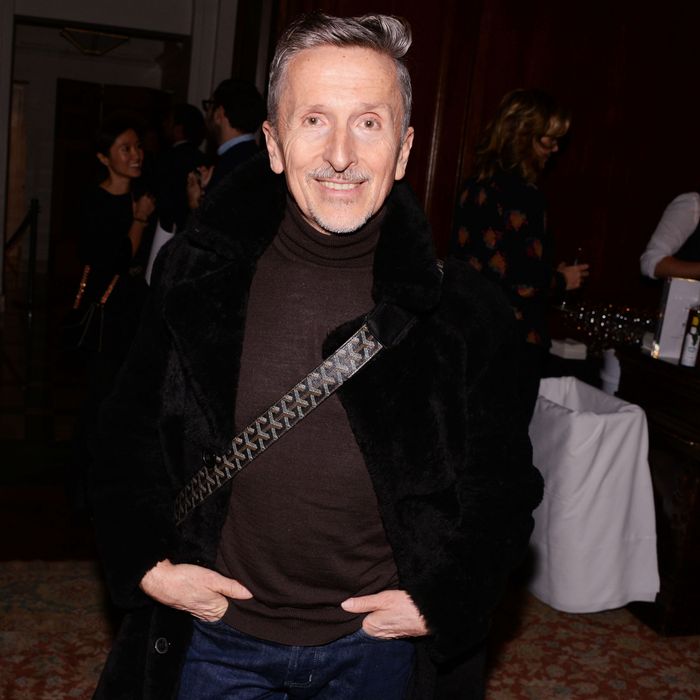 Photo: Clint Spaulding/Patrick McMullan
Awards-show red carpets are highly curated spectacles, filled with perfectly styled, perfect people in lavish (and often exceedingly beautiful) borrowed clothes. And while many of us watch these spectacles because of the fashion, Barneys' creative ambassador-at-large Simon Doonan thinks that awards-show dressing doesn't actually have much to do with fashion at all. Yesterday, we wrote about how Hayden Panettiere's decision to purchase her own Tom Ford dress for the Golden Globes was a bold one – and something more celebrities should emulate. And Doonan agrees: "They're the only people on earth who really need to buy gowns," he says. When the Cut caught up with him at Stella McCartney's pre-fall 2014 party on Monday night, he told us why he didn't watch Sunday's Golden Globes (football!), why he's not really a gown guy, and why he wouldn't necessarily cut off your mullet.
Did you watch the Golden Globes?
I didn't, I forgot completely. I was busy watching the football game.
Really?
Yes.
I wouldn't have guessed.
Well, I guess, I've never been a gown person. I love fashion, obviously, but to me, gowns are almost like a separate thing.
Okay. I get it. I just thought — there were some horrible gowns.
Well it's all subjective.
I know, but I bet —

If you love your dress, then it's a lovely dress. You know? That's what everybody said, there were some really horrible — really? How horrible were they? They cost thousands of dollars and they fit. So I was actually watching the football game.
Which football game?
I think it was — I was with my husband, who is a football fanatic.
I did not know that. 
Soccer and football — we're very sporty in our house. I looked at the pictures this morning and I thought, Well, they look like nice, appropriate gowns. So I don't know why that would be so interesting to people. But it is. I have to join this new world we're in. Because to me, gowns were always sort of separate.
That's so interesting, because some designers only think gowns.
Well, when was the last time you wore a gown?
Never.
Thank you. I think it's all great and it's all fun, part of the fashion landscape, but I've never been, like, a passionate gown person.
Is anyone driving you nuts lately?
The obsession with gowns [laughs].
What celebrity really needs to get his or her shit together? Who needs a day with you?
I'm not a helpful gay — I'm not that person who goes around fixing people.
So you would have never been on Queer Eye for the Straight Guy.
I would have been hopeless at it. I like to see people the way they are. Because I think clothes and style are self-expression: If that's what someone's wearing, they're expressing themselves, and that's who they are — you don't rush over and make them look different by cutting off their mullet. I'm not that person where if I see someone with a mullet, I have to cut it off.
No, you love the mullet.
I don't love it. I'm completely neutral about it. If that's that person's look, that's how they feel comfortable, that's who they are, then why would you change it? Because I really do believe clothes are non-verbal communication that are supposed to be an expression of what the person's wearing.
Not a gown person; not an awards-show person. During Fashion Week, do you check out when there are gowns coming down the runway?
See, to me, fashion is people like Martin Margiela, Dries Van Noten, Stella — it's creative people — Gaultier, Comme des Garçons, just not gowns. To me, fashion is not gowns. It can be gowns, I suppose, but it doesn't begin and end with gowns. I think it's a bit strange that with most people, their understanding of fashion is all celebrities and gowns. And that's a shame, because they don't really know the Balenciaga, Dior — that wasn't their main focus.
Okay. I'm done. I got my talking-to.
Nice to meet you. Really, I don't understand how people can get it up for gowns. It's highly paid actors wearing free clothes that are given to them. And they're the only people on earth who really need to buy gowns (and actually need to buy and have the money), but they get them for free — illogical — and [are] representing brands in a way which is not particularly representative of a brand. It's very hard to tell who did what dress, because actors all want them to be very simple because they don't want to be made fun of in the blogosphere.
For stealing [the look] off the runway? 
The whole thing is riddled with paradoxes and doesn't seem to be very connected to fashion. It's something else, it's become it's own thing. But I'm worried that people are going to think that that's what fashion is, and fashion is Gaultier and Comme des Garçons and Dries Van Noten. It's creativity and design and fashion.
… And you don't understand how during awards season, the movies kind of don't matter to a lot of people — it's the dresses.
It's harmless. Listen, I don't want to sound like a grinch, it's harmless entertainment. And there's no downside. It's just, if you flew in from another planet and looked at it very analytically, it's a system that is filled with paradoxes and inconsistencies.
This interview has been edited and condensed from its original version.