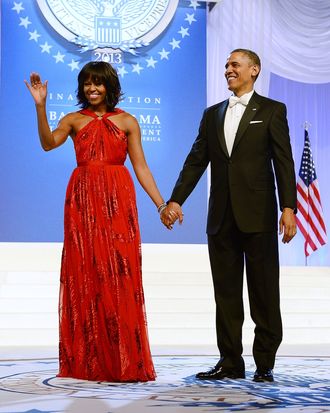 Photo: Michael Kovac/Getty Images
The ruby-colored Jason Wu gown Michelle Obama wore to the 2013 Presidential Inauguration will go on display at the Smithsonian Museum of American History tomorrow, the AP reports. The display of a "second" gown is unprecedented: Although the Smithsonian traditionally collects each first lady's first inaugural gown, the gowns worn at re-election ceremonies usually go straight to presidential libraries.
The velvet-and-diamond-embellished chiffon dress and Jimmy Choo shoes that Obama wore last winter will be displayed for a year in honor of the 100th anniversary of the museum's First Ladies exhibit. Smithsonian curators say this could pave the way for more common displays of the snubbed second gowns — which is exciting, since second-term FLOTUS fashion choices are typically thought to be riskier.