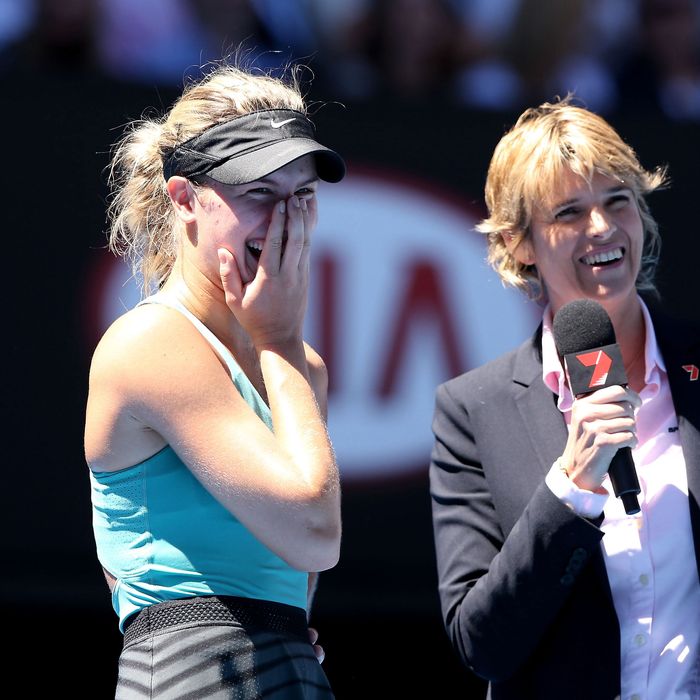 Photo: Michael Dodge/Getty Images
After Eugenie Bouchard, the 19-year-old top Canadian singles player, won the quarter-finals at the Australian Open this week, CBC presenter Samantha Smith asked, on behalf of Bouchard's male fans, "If you could date anyone in the world of sport, of movies — I'm sorry, they asked me to say this — who would you date?" Bouchard's response was diplomatic and patriotic: embarrassment and "Justin Bieber." It was a pretty condescending question for a young, female athlete who had moments earlier achieved new heights in her career. But it's only sexist — as many have argued — if no one asks these questions of men. And I wish more sports journalists would. 
I read with great interest, for example, about whether Rafael Nadal had brought his girlfriend to the Australian Open — which he discussed in response to a question from Jim Courier following his first-round win. And I am equally if not more curious as to whether Tomas Berdych wants to have children with his model girlfriend, how Roger Federer and wife Mirka divide childcare duties (they have twins), and what diet splurge Stanislas Wawrinka most craved after his four-hour upset of top-seed Novak Djokovic.
The solution to the Eugenie Bouchard problem, for me, is not to to spare young women invasive personal questions, but to aggressively ask them of men too. (Related: BuzzFeed's ranking of the top twenty male tennis players by hotness.) The lady-mag line of questioning doesn't need to come before or at the expense of tennis questions — but it is just sports, after all. We're not wasting precious airtime with foreign leaders. And many athletes (including Bouchard) invite curiosity by rolling their personal lives into their public personae on social media. In the glorious moments after winning a televised sporting event, men and women alike deserve the opportunity to float a long-shot crush.