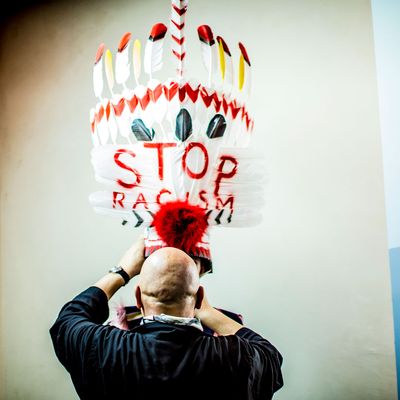 The most on-point trends for fall 2014 are not printed bomber jackets or gaucho pants. They don't come in forest-green or challenge familiar silhouettes. No, the real trends the fashion world is embracing right now are two hot-button -isms: feminism and racism.

Earlier this week, Carola Long wrote in the Financial Times that though historically the two Fs (fashion and feminism) have never been the warmest of bedfellows, this year, the "renewed cultural conversation about women's roles (lean in and take a bow, Sheryl Sandberg) means that designers and fashion insiders are explicitly embracing feminism."
She cites Elle U.K.'s Feminism Project, a suffragette- and Pussy Riot-themed Eddie Borgo jewelry collection, and Miuccia Prada's spring/summer 2014 showing of "strong women" as examples of this trend. She lauds Tory Burch, Tamara Mellon, and Joanna Coles (though, surprisingly, not Diane Von Furstenberg) as ardent voices exalting "2014 as the year of women's advancement." And as editor Lorraine Candy tells the FT: "There were lots of flats this season, and I think that may be a subliminally feminist thing. Flats are very much women designing for women. Isn't the pool shoe the ultimate feminist shoe?" 

While all those things are great examples of strong women in fashion, are we seriously arguing that feminism is a "trend" now because Chanel decided to show a lace-and-pearl sneaker? Without meaning to, this piece turned women's advancement into the equivalent of a crop top — something to embrace right now with fervor, but not necessarily with any sort of permanence. In fact, trends by nature eventually invite their opposite.

One only needs to look to the many discussions of race in fashion that have been percolating to see the possible outcome. In 2008, there were several outcries over the lack of diversity in the pages of magazines and on runways. For a hot second, editors responded with a few grandiose displays to show their commitment to rectifying the problem; Vogue Italia published an entire issue using only black models. That issue was polarizing, seen by some as a quick, temporary fix rather than a solution, and segregation masked as celebration. Eventually, fashion grew weary of that cause and abandoned it.
Last year, during September's Fashion Week, Bethann Hardison, Iman, and others raised the outcry about race on the runways by holding specific designers accountable for lack of diversity in their shows. A few designers responded: Raf Simons cast six black models in his couture show (the first time he'd done so since taking over Dior), Rick Owens employed a multiracial troupe of step dancers, Prada cast biracial model Malaika Firth in its fall 2013 ad campaign. This season, we've already seen a few menswear designers use their collections as a means of expression against the lack of diversity on other runways. Belgian designer Walter Van Beirendonck sent headdresses down his Paris runway with the message Stop Racism scrawled across them, surely a direct reaction to the offensive Native-American headdresses Karl Lagerfeld debuted during pre-fall. Turkish designer Umit Benan cast only black models for his Paris show and ended it by personally unfurling a banner that read, "No to Racism – For the Love of the Game." These were huge statements, headline-worthy declarations. 

But, ironically, Van Beirendonck cast only four nonwhite models in his show, and despite Benan's all black cast — his collection was inexplicably Jackie Robinson-themed — his gesture felt based in aesthetics rather than in values. If fashion is truly interested in breaking down racism, it would not seek to make bold, crazy shows that seem like stunts. Designers and brands would simply integrate models of different ethnicities like it was no big deal.

Perhaps the worst example of this failure to integrate comes from Vogue Italia, which launched "Vogue Black," a section of the site devoted only t0 black fashion, in 2010. This week, the site has incited some ire, thanks to a slideshow called "Vogusitas Black Pitti." The thinking, if one can even begin to rationalize it, seems to have been an attempt to spotlight fashion's black power elite and street-style stars. Both Business of Fashion and Fashionista have lengthy posts on how antiquated and racist it is to segregate street-style stars. There is no link to the slideshow on Vogue Italia's main page. "The intrinsic message of 'Vogue Black' [as] separate but equal … [is] a historical concept all too familiar to black people, especially in America," writes Jason Campbell for BoF.  Instead of just making the effort to include black street-style stars in its central reporting, Vogue Italia has taken us back to pre-Civil-Rights-era thinking.

Not to say that there haven't been some effective and committed arbiters of change nestled within the large-scale, flashy statements. Riccardo Tisci seems genuinely committed to diversity (somebody else, please, give him a run for his money). Hardison, who leads The Diversity Coalition, has recently noted that there has been a slight improvement in the number of designers using models of color. There has been progress, even if the numbers are still low, she told Modelinia. When Rick Owens cast non-models in his show, he was addressing racism, feminism, and body-shaming all at once. This might be a one-off, but it demonstrated an innovative and seamless integration of different values and alternative perspectives — the kinds of conversations we ought to be having in boardrooms, to paraphrase Campbell.

But the danger, the fear and, quite honestly, the more likely outcome, is that designing a flat shoe or casting a single model of color in a major campaign won't translate to a consistently diverse, female-empowered runway. A few collections inspired by Pussy Riot won't help us to elect a female president. And when fashion treats such important issues as trends, we risk losing the fight when they slip out of vogue.