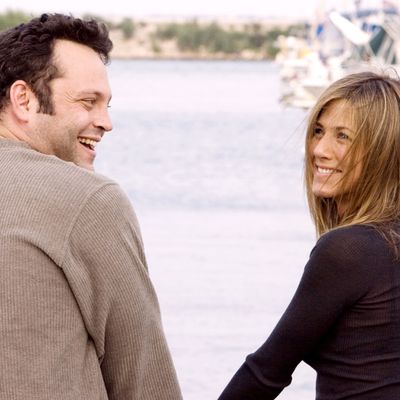 Photo: Universal/Courtesy Everett Collection
Watching and discussing romantic movies is roughly as effective as couples therapy in reducing the divorce rate among newlyweds, according to a University of Rochester study published in December's Journal of Consulting and Clinical Psychology. Researchers looked at 174 couples over the first three years of their marriage, when one in four couples divorces. Couples were randomly assigned to one of three month-long programs — conflict management, compassion training, or movie-and-talk — as a kind of secular surrogate for the marriage-preparation classes offered by churches. The conflict-management and compassion-training groups required about twenty hours of therapist-supervised lectures and practice sessions, whereas movie-and-talk required half as much time, involved watching movies, and was almost entirely done at home. But all three groups halved the divorce rate of the control group, from 24 percent to 11 percent. 
Their conclusion? People already know how to fix their relationship problems, they just need the excuse to think and talk about them. "For these couples to stop and look and say, 'You know, I have yelled at you like that before. I have called you names before and that's not nice. That's not what I want to do to the person I love the most.' Just that insight alone, is likely what makes this intervention work," lead researcher Ronald Rogge said.
Rogge's lab is offering a  list of movies (Fatal Attraction! Her! Think Like a Man!) and guided discussion questions ("What main problem(s) did this couple face? Are any of these similar to the problems that the two of you have faced or might face as a couple?") on its website so couples can try it on their own. But good luck convincing anyone to see Drew Barrymore and Adam Sandler reunite in Blended with you once your hidden emotional agenda gets out.