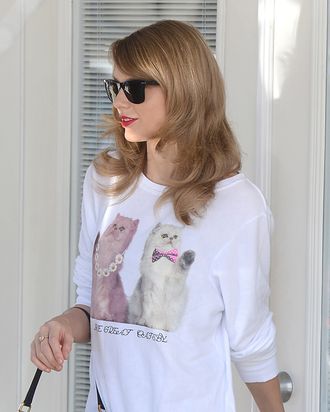 Photo: All Access Photo/Splash News/Corbis
Taylor Swift is a young person who leaves the gym the way another person might leave for a party: red lipstick on, hair coifed, bling blinging. She (unlike me) is a girl who has gym outfits, and her most recent gym outfit starred a cat-themed Great Gatsby pun: the Great Catsby sweatshirt by Wildfox.
Swift is a longtime, proud reader of F. Scott. She took to quotin' Fitzy on her Instagram at one point. Also, just this past weekend, she publicly divulged her "daily struggle" not to purchase more felines. So she's nothing if not consistent. Wear your literary cat lady, highbrow-lowbrow heart right on your sleeve, Taylor. That's where it belongs.