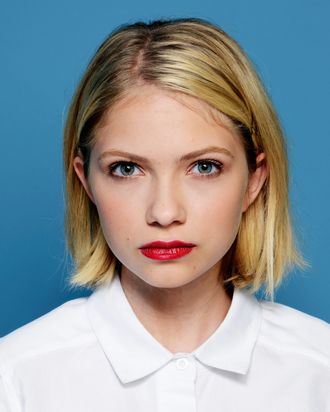 Photo: Larry Busacca/Getty Images
Rookie editor Tavi Gevinson is outgrowing her teen demographic with the wisdom and warmth you think we'd have learned to expect from her by now. Alas, nope, it's still totally devastating. In her latest for Rookie, Gevinson describes the symbiotic relationship between relentless self-examination (a teen's God-given right, Gevinson's job) and angst. She says the teenage and writerly impulse to analyze day-to-day events as the symbols and motifs of her life's story made her fatalistic about her hometown boyfriend (!), her education, and her career, which, as a real-time chronicler of teenagedom, must inevitably change.
"The most drastic example I can offer you is from last fall. I was severely depressed, on a lower dose of medication than usual, sensing the end of my Forever, and deeply overwhelmed by it all. I considered that all of my favorite movies, books, TV shows, and songs were about being young. That all the work I create is about understanding this time in one's life. That I'd had these few years of feeling everything in such extremes, and that our bodies are programmed to tone it down once we grow up. I had probably seen too many photos of Edie Sedgwick on Tumblr and was already having a terrible day, and then, on that October night, the idea of it being the end just made so much sense, in the completely illogical way. In a fit of tears, I scrawled in my diary: "I feel like my life wasn't meant to go on post this point … I feel like I've done my time and given all I have to give.""
Gevinson dubs this way of thinking the "Tragic Eight Ball." And because she's Gevinson, there's no need to outgrow it with freshman seminars and drugs and the mundane distraction of being broke all the time. She's already figured out that the Tragic Eight Ball is a "dirty trick," a defense mechanism against actually navigating the complexities of life off the blog.
"It convinces you that you have autonomy over your life by forcing you to compromise your autonomy. Receiving these little signs from the universe makes us think that we're ahead of the game, that we know things other people don't. But what it really does is rob you of your power to think and make decisions for yourself, and allow you to hide away out of fear of facing conflict."
In addition to being insightful about her own realizing-you're-not-the-center-of-the-universe process, Gevinson seems to hint that she will outgrow teenage-centric media as a career as well, unlike 15-forever Jane Pratt. So watch out, Thought Catalog. She's coming for the twentysomethings.