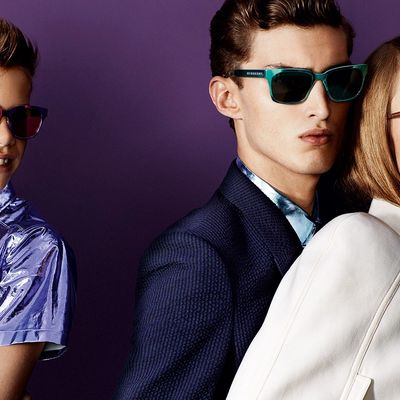 Photo: Mario Testino/Vogue
According to some Greenpeace tests, toxic chemicals were discovered in a metallic purple Burberry shirt. You might recognize this shimmery item as the statement shirt modeled by one Romeo Beckham in a 2013 campaign that ran in Vogue, alongside models Edie Campbell and Cara Delevingne. The $289 statement blouse has a very space-age, Terminator, Alex Mack-sludge, liquid gleam to it. Perhaps a little smidgeon of space goo found its way into the fabric to give it that otherwordly sheen?
Oh no, says Greenpeace; it was an ingredient often found in detergents used by clothing manufacturers. The shiny, shiny shirt contained a relatively high level of the man-made chemical nonylphenol ethoxylate (NPE). NPE can degrade into nonylphenols (NP), which can be harmful, accumulate in the body over time, and disrupt hormones. There is, however, little reason to suspect that the level of chemicals would cause immediate harm. In a statement, Burberry said that all its products were safe and in accordance with international environmental guidelines. So, chill, chill, it is highly unlikely that any young Romeo Beckhams were harmed in this crusade for shiny statement garments.