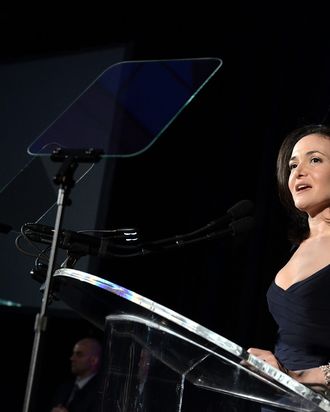 Photo: Shahar Azran/Getty Images
Across America, women are leaning in — including religious fundamentalists. The Jewish Daily Forward reports that the gospel of Sheryl Sandberg has reached the ultra-Orthodox Monsey, New York, chapter of the Jewish Woman Entrepreneur, a young and growing nonprofit that connects Orthodox women running their own businesses. JWE is like a Lean In circle for women who are prohibited from shaking hands with members of the opposite sex. Now, according to the Forward, they're asking themselves what they would do if they weren't afraid. The group's entrepreneurs include Judy Greenfield, a mother of seven who runs a multi-million-dollar tile and granite business with her husband; Chavy (last name withheld), a mother of four who learned how to pitch her baby bedding line to investors by watching Shark Tank; and Rosie Kraus, a mother of three who designs children's leggings and socks with detachable ruffles.
With an average of 5.8 children and a median household income significantly below their non-Orthodox neighbors, balancing work and life is a more complex equation for Hasidic women than most. Which is why, rather than fretting about leaving before they leave, they just never go. Reporter Anna Goldenberg writes:
"With so many children at home, that may seem like no minor caveat. But Harriet Hartman, a sociologist at Rowan University who researches gender, Judaism and work, said that entrepreneurship can be more suitable for family-oriented Haredi communities than a nine-to-five job because it allows for flexibility. "You can put it in the framework of, 'This is good for the family,' and then it's acceptable," she said."
And they're not the only religious group reconciling the conflicting gender roles prescribed by their faith and Sandberg's feminist manifesto by being their own bosses. Today, the New York Times profiled the Browns, a polygamist, Mormon fundamentalist family in Utah who shares the Haredim's large broods, financial precarity, and entrepreneurial spirit. Patriarch Kody Brown's four wives each work to support the family's seventeen children, dabbling in online jewelry sales, health supplement distribution, real estate, and a TLC reality series about their lives.