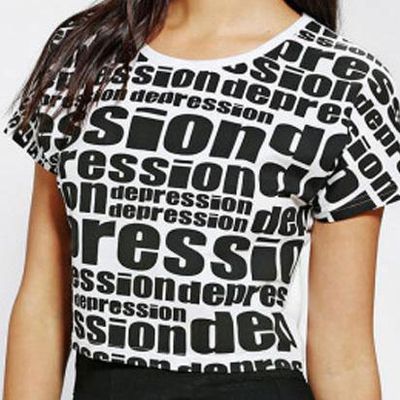 Urban Outfitters' knitwear runs the gamut from irony to ironic earnestness to earnest irony to confusing warnings to probable lies, so perhaps it's inevitable that sometimes their choice of language will strike a nerve. They are the monkeys on the typewriter of the graphic tee, and occasionally they manage to write the Great American Internet T-Shirt Outrage.
Following some Twitter freak-outs and 5,000 signatures on a Change.org petition, Urban Outfitters has pulled a T-shirt that said Depression over and over, in bold print of varying sizes.
Though depression is a word with many meanings — like a sunken place, a severe and sustained economic decline, or an area of lower atmospheric pressure — the buying public believed the shirt referred to mental illness. For context, Urban Outfitters also sells band shirts reflecting even darker mental states, like a tank that says Suicidal ($29), or a baseball tee that reads Suicidal Tendencies ($39), if you want to sound fancier about it.
Regarding the Depression tee, UO is aiming to shift blame to the shirt's designers, a small brand from Singapore called Depression. Kenny Lim, Depression's co-founder, said that they are being "misunderstood." He told ABC News: "I was shocked that after one T-shirt people jumped to this conclusion. We make happy clothes. I got very depressed at work. The clothing line is a reminder that we can be happy every day when we go to work."
Well, kids, if you're feeling at a loss about this shirt you didn't even know existed until it was pulled, try this Joy Division sweatshirt ($49) on for size. Everyone will know about the state of your heart.