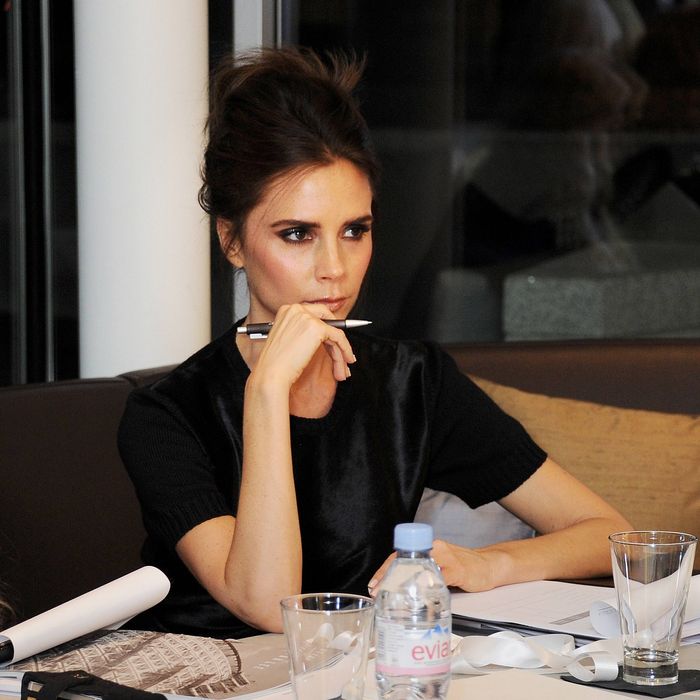 Photo: Dave M. Benett/Getty Images
For the fifth anniversary of her namesake line, Victoria Beckham is ready to take her successful fashion business to empire status. "I'm taking my business very seriously," she tells WWD while sharing new expansion plans for the brand, which include a new Chelsea office and a 7,000-square-foot store opening in London, right down the street from Dover Street Market. The store, slated to open this fall, will offer all of her collections, including Victoria Beckham, Victoria Victoria Beckham, denim, and her accessories. 
Impressive, considering Beckham's brand has only been around for five years. But she's really immersed herself in all facets of her business, including the time she had to put together her entire Selfridge's pop-up shop on her own. She recounts: "The only person there to go unpack boxes, steam clothes, and do the merchandising was me … I was at Selfridges at 6:30 or 7 in the morning, or some rather unsociable hour, unpacking boxes and steaming clothes."
Luckily, her fans never have to miss seeing that moment or any moment of  her strategic takeover (her second, if you count Spice-Girl mania): All of this is being recorded for her five-year Skype collaboration. Hopefully, the footage will include a bubbly Girl Power soundtrack and an Union Jack—emblazoned tour bus or basically just be Spice World II with better fashion.