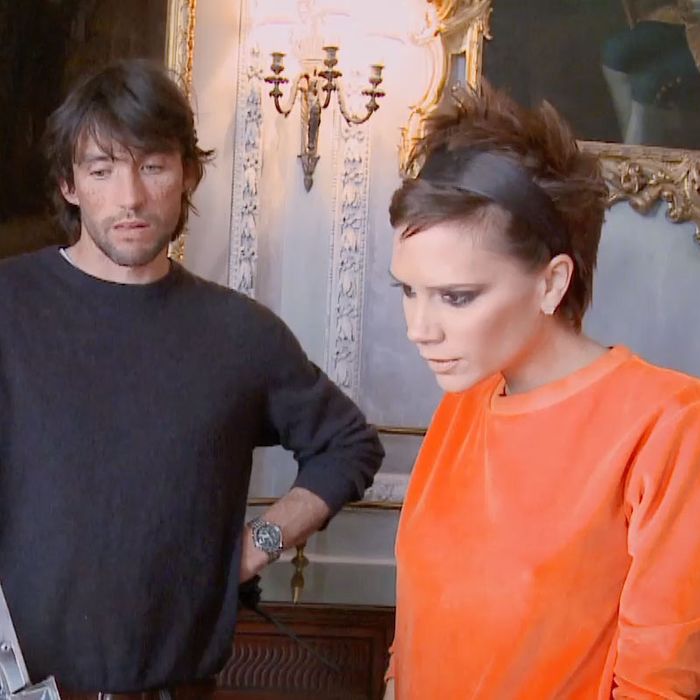 Today, Victoria Beckham unveils her Skype "Interactive Editorial" – a fancy, multimedia-heavy website that tells the story of Beckham's brand with lots of bells and whistles.

The platform allows you to navigate through big moments in her career, such as the time she was photographed inside the Marc Jacobs shopping bag. Photographer Juergen Teller (he of refusing-to-shoot-Miley fame) talks about how it was a big moment in his, Jacobs's, and Beckham's career. "With the Spice Girls, she was a product," he says. "And I thought, products sell. So she sells. For me, like perfumes, and handbags, and shoes, these are [the] kinds of products that shift these fashion companies, not so much the clothes itself. And that's why we had this idea to build this oversized carrier bag where you buy the clothes and put her in it." Watch:
In another clip, Beckham arrives at a country estate in an undisclosed location to shoot a short digital film for the spring/summer 2009 collection, wearing, of course, a tight black dress and six-inch Louboutins, which are really a bitch on the gravel. "The area I want to move more into is being creative and having control and ownership, but taking a little of a backseat as well, she says. "I don't feel the need for it to always be about me." Once inside, she runs gamely up some carpeted steps in those same shoes, and then – miraculously appears in the next shot in a pair of really low-slung boyfriend jeans (the kind that reveal crack) and an orange velour sweatshirt. This is truly Beckham as we have never seen her before! Or, at least as we've seen her in the last ten years.