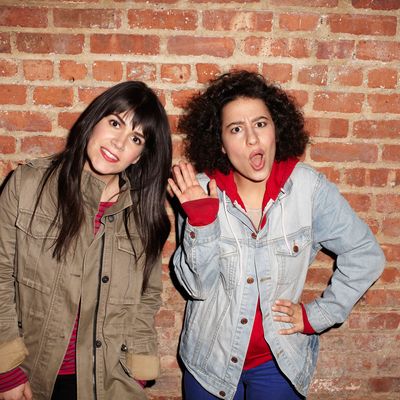 Photo: Lane Savage/Comedy Central
Broad City, a scrappy web series by Abbi Jacobson and Ilana Glazer, got its big small-screen premiere last night on Comedy Central. Amy Poehler loved the mini-shorts, and she produced it as a half-hour show. You can be just like Amy Poehler in that you, too, can take this playful show into your heart, beginning by catching up on the web series. 
It's a slice-of-life show, but Broad City has many wild and weird slices, so it's more akin to a super fun, crazy pie. In addition to this solid analogy about a sketch-comedy-sitcom pastry, here are a handful of other reasons you might want to dig in:
1. Broad City is fantastic at comparing two different female perspectives on the same subject. "Date Night" and "Commuting" are both examples of how two people might approach romance, or waking up in the morning.
2. It's got a rare unicorn in its "female Bill Murray character," as Willa Paskin notes in her Slate review. Ilana Grazer's character is a new type of female character to television — a woman with no filter and no cares to give.
3. In addition to the show, Abbi Jacobson is behind this adorable lost letter project. She received a letter at her apartment that was sent in 1944, and became dedicated to trying to find the recipients of the forgotten correspondence. So historic and sentimental.
4. The web series is absolutely consumable. The episodes of the web series are each just three or four minutes long. Much is accomplished very quickly — a yoga class, plus time to dive into a pile of doughnuts and devolve into exasperation.
5. It's so real, but it's also outstandingly ridiculous, oscillating between nuanced observations and exaggerated goofing. Their conversations match the theme in that they are winding and natural, but also absurd. For example, Ilana and Abbi's mutual understanding that one person's Laura Linney can be another person's Nicki Minaj.
6. It just has good energy. This is hard to define, but I think the "I Heart New York" episode does it well!