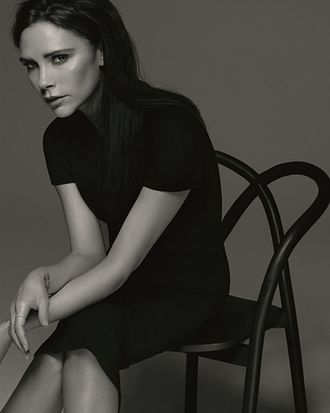 Photo: S?lve Sundsbo for Wallpaper*
Victoria Beckham's long-touted collaboration with Skype is finally taking shape: It will be called "Five Years – The Victoria Beckham Fashion Story," and will debut this Thursday in the form of an "interactive editorial" on the Skype Collaboration Project's glossy platform. It promises to bring us everything we need to know — and everything we didn't know we needed to know — about Victoria Beckham.
The trailer for the project, which debuted today, registers somewhere between The September Issue and The City: It's filled with lots of important people (like British Vogue's Alexandra Shulman) talking about Victoria, some shots of the designer wearing sunglasses on a plane, some frenetic-but-uplifting backstage scenes, and, of course, a few tight black dresses. "I was a Spice Girl, married to a footballer; I was trying to do something that no one had really done before," Beckham says, while music soars in the background. Watch all this and more in the trailer below.