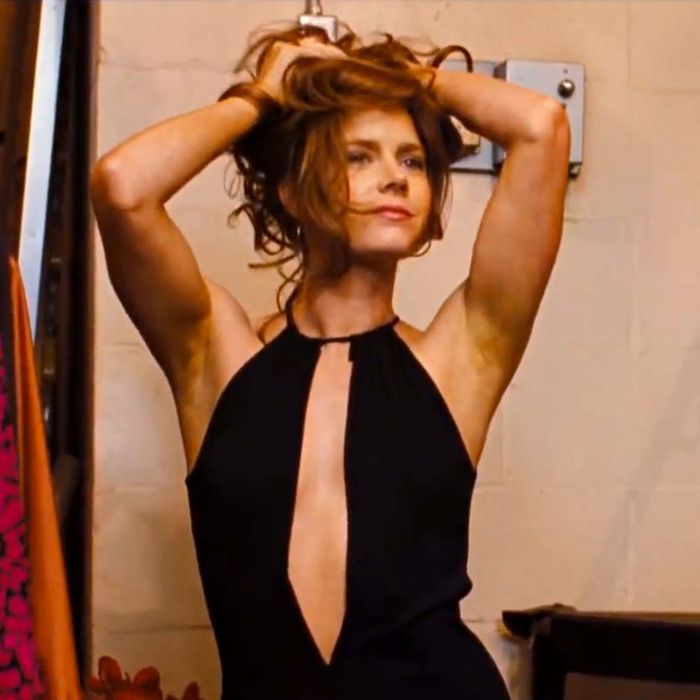 In American Hustle, Irving Rosenfeld and Sydney Prosser find love in a hopeless place: the storage room of a New Jersey dry cleaner. Irving (Christian Bale), who owns the business, leads Sydney (Amy Adams) to a back room filled with clothes left behind by customers, and tells her she can have whatever she likes. She throws on one expensive outfit after another: a Diane Von Furstenberg wrap dress, a Halston-like evening gown with a plunging neckline; fur. It's like the great fashion closet scene of The Devil Wears Prada  – except this is a dry cleaner, not Runway.
"I could only dream about these dresses," Sydney says to Irving, eyes wide. "They're beautiful." A bounty like this seems too good to be true, but at some dry cleaners in New York and New Jersey, it's surprisingly not so far-fetched. 
Today, when you call Tweeds Dry Cleaning in Camden, New Jersey, where American Hustle was set, an automated British woman's voice answers, eerily similar to Sydney Prosser's alter ego, Lady Edith Greensley. But Scott Kaufman, who is a part owner and has been in the dry-cleaning business for 22 years, is as American as it gets. And he's seen many a garment left behind. "You name it," he says. "Upholstered furniture, fur coats, and day-to-day clothes like dress shirts, skirts, suits — everything."
According to New York and New Jersey state laws, dry cleaners are responsible for unclaimed items for up to six months, during which time they're supposed to repeatedly contact the customer, although it's not required. If the customer fails to respond after that time, the items are deemed abandoned property. Unlike in American Hustle, dry cleaners today cannot keep abandoned property — it has to be given away to charity. (And a mistress in the market for a mink, for example, is not considered charity.) Most cleaners donate items to the Salvation Army, Goodwill, or to local churches. "If we see someone in need on the street, we'll give them clothes," says Joey Valentino, an employee at a Tribeca dry cleaner who's worked at various cleaners in New York City for the past seven years. "Sometimes people come in and say that they're going on a business interview and need a suit, and we'll give them what we can find."
If they have the space, some cleaners will hold onto clothes well past the six-month mark with the hopes of returning them to their owners. "We had this one woman's fur coats in storage for around three years," says Valentino. "She kept leaving the coats, so eventually we just gave them away. She blew a fuse and the next thing we know, we got a letter in the mail from her lawyer." Other cleaners have similar stories. The minute a piece of clothing is given away, someone remembers that they miss it. 
To avoid lawsuits, the Village Tailor & Cleaners in Soho keeps racks of unclaimed clothing in a back room, just like the one in American Hustle. "It doesn't make any sense to me how people forget to pick this stuff up," says Isaiah Bell Sr., who's worked there for nine years. "Some of it is really nice." Hidden in the layers of plastic wrap and yellowing tags are Gucci suits, Brooks Brothers shirts, even a Lanvin cocktail dress. The Village Cleaners also own a cobbler shop next door, and Bell says that shoes often get left behind there as well.
Possible explanations for the sudden disappearance of customers range from simple forgetfulness to leaving town and never coming back. "In New York City, people are transient," says Kaufman, who owned a cleaning service in Manhattan prior to working at Tweeds. "They're in, and then they're out."
Ann Hargrove of the National Cleaners Association cites, of all things, weight gain as a possible reason people abandon their clothes. "If you gain 100 pounds, you're not going to want your skinny clothes back," she says. She's even seen failed marriages affect dry cleaning. "You'd be surprised how many wedding gowns don't get picked up. I had this one — it was a masterpiece and cost maybe $5,000. It was beautiful. When the bride, who was a regular customer, came in she said, 'I'm not even married anymore. I don't want it.'"
And when life isn't getting in the way of dry cleaning, sometimes death is. Forgotten dry cleaning oftentimes isn't forgotten at all — the owner of the clothing died. Finally, "Some people don't have the money," Hargrove says. Dry cleaning bills can add up; but forgotten dry cleaning also costs the establishment. "All your hard work goes up in smoke." 
So, next time you neglect to pick up your dry cleaning, remember that if you don't come back to claim it, the Lady Edith Greensleys of the world might.