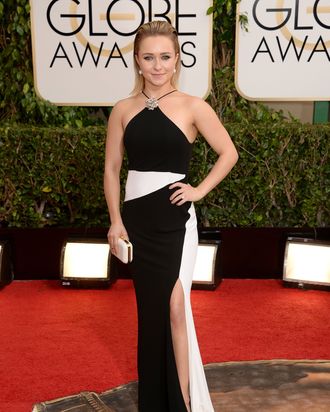 Photo: Jason Merritt/2014 Getty Images
"Tom Ford. It's the first time I've ever worn him, because I've been begging ever since," Hayden Panettiere told Giuliana Rancic about her black-and-white Tom Ford dress during E!'s Golden Globes red carpet show. "I feel sexy in it, I feel comfortable in it, and I'm in Tom Ford. I would wear a plastic bag if it was designed by him."
Despite the colorful picture, Hayden didn't actually "beg" for her Tom Ford dress at all. She did something much more dignified: She actually bought it.
But Tom Ford's reps said they didn't "officially" dress the Nashville star — rather, that she bought the dress in-store. "Tom Ford confirms to me he ONLY dressed #NaomiWatts tonight. Hayden Panettiere BOUGHT her Tom Ford dress at RETAIL. Tsk tsk," tweeted journalist Jim Shi. The equivalent of Sorry, seat's taken in the cafeteria.
To most of the fashion crowd watching, this comes as no surprise. Ford is usually known for dressing only one woman per show, carefully engineering a fashion moment: Think Naomi Watts in an incredible silver, beaded column dress last night, or that white cape-dress on Gwyneth Paltrow at the Oscars in 2012. Enthusiastic though she is, Panettiere doesn't exactly fit that bill.
But hang on: Since when is it a bad thing to actually go buy your own dress at the store? It's easy to forget, in the dog-and-pony show of awards season, that everything we are seeing – every single thing – has been borrowed for this specific occasion and will be returned to a showroom in a garment bag the next morning (un-dry-cleaned) by a stylist's assistant. Nothing is actually owned by the person wearing it – not the shoes, not the bag, and definitely not the jewels. (Unless, of course, the person is a big enough star, in which case he or she may end up receiving his or her dress or tux as a thank-you gift.) But we know all this, and still we watch: marveling at the work of enterprising stylists and – what it really comes down to – whether someone is a big enough deal to be bestowed a dress from a certain designer. That's what this fantasy is about, right? The fact that Kerry Washington's baby bump is wearing Balenciaga?
So then, into the middle of the fray comes a well-meaning Nashville star who is just such a fan of Tom Ford. So much of a fan that she's wanted to wear one of his dresses for years – and, is willing to go to the mattress and be vague about its origins. She insinuated that she was begging the designer for the dress probably because she didn't want to admit she found it in the Tom Ford Rodeo Drive boutique or at Bergdorf's. She wanted to appear, sweetly, just as important as the next guy in Tom Ford. And we should appreciate that. Here's someone who is so genuinely a fan of fashion that she's willing to buy to get it – and frankly, she puts the whole thing rightly in perspective.