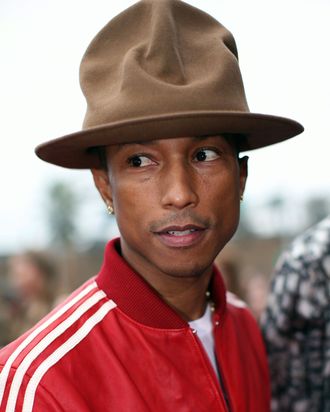 Photo: Christopher Polk/Getty Images
Despite the fact that Pharrell's hat was largely ridiculed during the Grammys – spawning countless memes and a parody Twitter account – it turns out people actually want to buy it.
After the hat was identified as an item from Vivienne Westwood's 1982 collection, the website for her World's End shop (where it is exclusively sold) crashed due to high traffic, a rep for the brand said. (It's now back online.)
A sales representative at the Vivienne Westwood boutique in West Hollywood, the brand's only free-standing store in the States, tells the Cut that there have been "plenty of people inquiring about how they can order it" since Sunday, and too many phone calls to count.
Because of the demand, the brand representative says, Westwood has chosen to stock the hat in the L.A. boutique — as originally reported by the Los Angeles Times. A limited-edition run of the hat will be sold there beginning in mid-February; the hats will be sold in black and brown for $180, and can apparently be pre-ordered now by calling the boutique.
Just what Los Angeles, land of the man-beanie, needs: men in the "Jello Mould" hat. Pray for Brentwood.