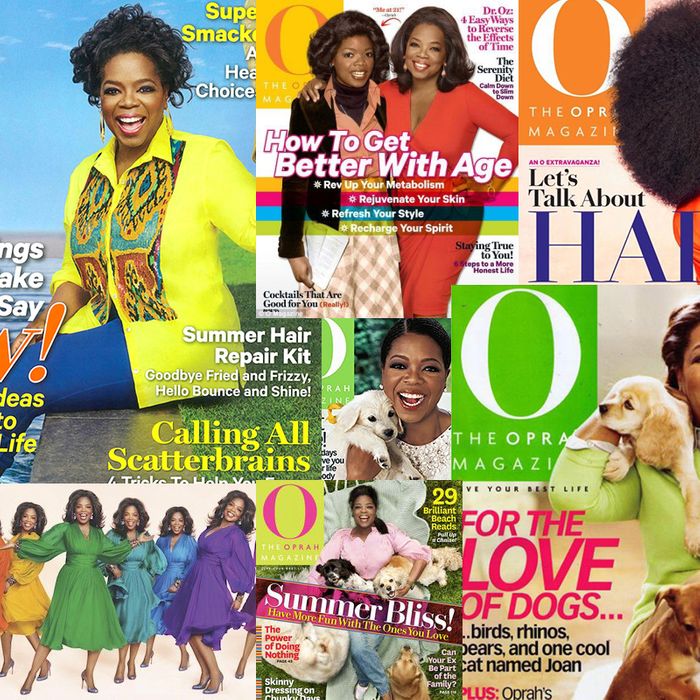 What bad tidings are these? Oprah Winfrey, perpetual cover girl of O: The Oprah Magazine, might step down from her place of glory on newsstands across the land! "Page Six" has the rumors:
Hearst staffers say Oprah Winfrey is sick of shooting her O magazine covers and is going to retire from doing them soon — even though she typically knocks out three covers in one daylong shoot. Now editors are scrambling on how to handle the covers. One option they're considering is to decorate big letter O's, depending on the month . . .
Let's set aside the disconcerting revelation that Oprah shoots three covers at a time. (Where is the magic in that? The cover of O shouldn't be efficient, it should be BOUNTIFUL AND GLORIOUS.) More important, if this rumor is true, it would have devastating effects on the countless California puppies who rely on Oprah for employment (examples one, two, three). And anyway, it's all just very difficult to understand. Oprah is always so relaxed and chill on her magazine cover. She just lounges and reads, or dips her feet in the pool, or plays Charlie's Angels with Dr. Oz. Sometimes dozens of other Oprahs come hang out, too. And they all laugh and laugh and laugh. This Oprah wouldn't want to retire.
Also, just for the record, that decorative "big letter O" idea is fully rejected by this representative of the reading public. Unacceptable. Better just to have O minus Oprah and publish a photo of puppies, flowers, or Ellen DeGeneres jumping out of some wrapping paper.