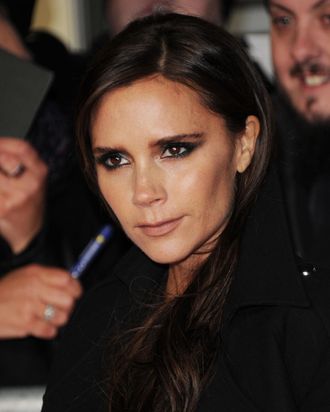 Photo: Stuart C. Wilson/Getty Images
Communicating through magazine reporting, as famous people are wont to do, Victoria Beckham and Lena Dunham tease that they might (perhaps) be setting up a Beckham cameo on Girls.
A couple months ago, rumors swirled that Victoria Beckham was itching for a part in Dunham's HBO series. Dunham heard these rumors and was flabbergasted, but also inspired. She told Vanity Fair:
That shocked me! She didn't say it to me, but she said it in the media, and I was like, We'll get to work on that! I'd love to see Victoria Beckham, like, dress it down a little bit, maybe do Victoria Beckham as somebody's adult-education teacher or something. I love her; she's very chic and nice.
Victoria! I love these games we play. I shall raise your prospective cameo to a cameo in which you play a grubby, work-a-day, regular person. Jenna Lyons already cornered the market on fancy fashionable icons, so really, the only things we have left are helpful instructors and/or the new Marnie. Looking forward to reading your responses in Hello!
Do you know who needs a hearty acknowledgement in this whole game? The media, the fourth estate, the free press: finally affecting real policy change. And what heady encouragement that with a few questions, a Girls cameo could be in the works. Who else shall we try to get onto the cast of Girls? I hear that baby Prince George adores the series and would love a pivotal role involving changing someone's perspective on parenthood.