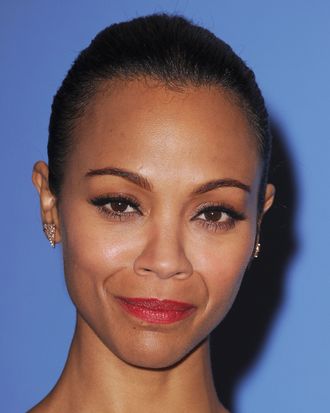 Photo: Steve Granitz/Getty Images
Getting ready with Zoe Saldana, as you might expect, is a little bit like a party. The Cut would expect no less from a dancer turned actress whose husband was so impassioned as to tattoo her face on his forearm, and celebrity makeup artist Vera Steimberg confirms it to be true: There's "always Spanish music, with some salsa, we just shuffle between songs," she says, laughing. Although the Cut is somewhat divided on our feelings about Zoe Saldana's Prabal Gurung dress choice from last night's Golden Globes, we are in consensus that Saldana had enviable, glowing skin and a red lip that effortlessly complemented the complicated tones of her dress. The Cut spoke to Steimberg about the story behind the look — and more about what it's like to get ready with Saldana.
How did the look come together?
A few days ago, I reached out to her stylist, Petra [Flannery] to ask her for a picture of the dress. We try to create a story with the dress. The Prabal dress had three different colors and the detail on the dress was amazing. It was a little pink on the back, and black and white. It had an asymmetrical hem and flowers and a lot of different things.
When I saw that, I knew I wanted to do more of a red lipstick. We looked at the whole variety of red. The one we ended up choosing, Chanel's Rouge Allure in Number 14, Passion, has a little bit of pink. It's not so blue or orange. The color was very important because of the contrast of the pink with the back of the dress.
What was the story of the look?
The look was like those Spanish ballerinas, who have their hair up in a bun. The whole dress and look was going in this direction.
It looks like you kept the eye makeup pretty simple.
I tried to make a glow all over. But I did start with her eyes, using a liquid eyeliner, very thin and close to the lashes. It defined the eye, it wasn't a cat eyeliner. I put a lot of Le Volume de Chanel black mascara on the top and bottom. I used individual lashes on the top only. That was pretty much it for her eyes. With a little bit of the Illusion D'Ombre in Apparence, just a little using the fingers.
How did you make her skin look glowy for the red carpet? Did you use any face masks?

Zoe is really good with taking care of her skin. She has her routine of cleaning her face and moisturizing. And before she goes to sleep, she will do a clean, complete face, even if she doesn't wear makeup. Not everyone has the strength for that. She already has a natural glow.
On her face, we wanted to keep it very simple. I used Chanel's Vitalumiere Aqua Ultra-Light Skin Perfecting Makeup in shade 70, just on the T-zone. I use the base before the Vitalumiere Aqua, because it gives that glowy undertone that I'm always looking for. For the blush, I used Joues Contraste in Rose Ecrin.
What was the process of getting ready like?
It's very fun. We were surrounded by her entire family. Her niece was coming in from out of town. It's very happy environment. There's always music. We already talked about what we wanted to do with the look. I made sure that she had a mirror and was able to see the whole process. We are always trying to be on the same page.
I think she loves being a part of the getting-ready process. She enjoys being part of the story. I would ask her, "For the dress, what do you think about this?" She loves looking at everything. We had, literally, ten different red shades before we started. And I would ask her what she thought about each one. She likes to have a story behind the whole look. It's not, Do whatever you want. She has input.