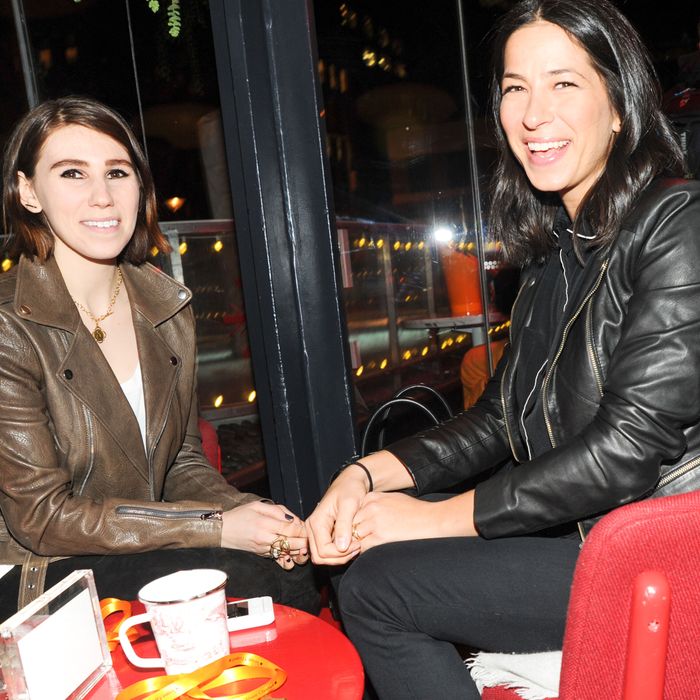 Zosia Mamet and Rebecca Minkoff.
Photo: Neil Rasmus/BFAnyc.com/BFA NYC
How to survive this merciless New York winter? Stay inside and play Scrabble. That's the advice of designer Rebecca Minkoff and Girls' Zosia Mamet — though they weren't following it when they spoke to the Cut Wednesday evening at the Standard, High Line Ice Rink. The two braved the cold for Veuve Clicquot's annual winter fete (the "Olympic Edition"), but stopped short of getting on the ice, where fur-clad guests were competing in relays and waving hockey sticks. "I was definitely thinking about [skating], but it's, like, below zero, and I don't know if I'm ready for that," Minkoff said. "I'm more of an après-skier-snow-angel kind of a gal," added Mamet.
Neither considers herself a very good athlete, anyway. (Minkoff: "Definitely not." Mamet: "No! No!") What brings out Minkoff's inner Olympian, she told us without missing a beat, is Scrabble. "Scrabble gets everybody!" Mamet agreed. "One of my best friends called me a cunt when we were playing Scrabble — and she is an incredibly soft-spoken human being," she said. "It wasn't even that good [a word], it was just on the spot she wanted; I took her spot, and she called me a cunt." This is exactly why Minkoff loves the game. (She loves it so much a friend gave her a turntable Scrabble as an engagement gift.) "It brings out the worst in people," she said. And so, without further explanation necessary, Minkoff suggested everyone ride out the chill with Scrabble. It could even be a cute date — unless, of course, your date steals your spot.