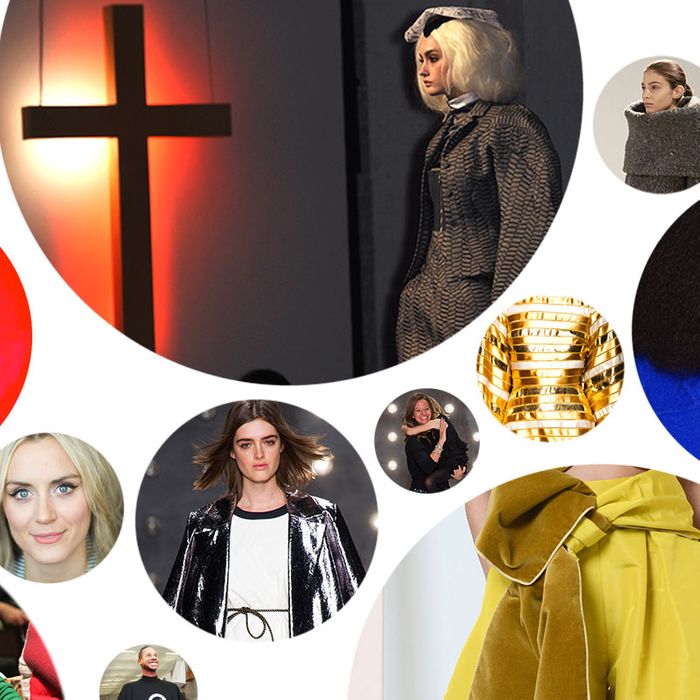 With a fresh coat of snow on the ground, Monday was the day that finally forced the die-hard fancy-footwear enthusiasts into more sensible shoes. We saw loads of Nikes and Stan Smiths (snow-sensible, if not entirely snow-optimal) paired with everything from leather sweatpants to long skirts over pants. One smart editor we chastised for her apparently bare legs under ripped jeans clued us into her secret: nude ice-skating tights. Seasonally appropriate and Olympic-themed. She wins.
The shows ran the gamut: There were enormous turtlenecks at The Row, and even more enormous pants at Rosie Assoulin; thick incense, crosses, and pews at Thom Browne; and a welcome amount of leg at Donna Karan. From Solange at Milly to Taylor Schilling needing a nap, see our best moments from Monday.
1. The theme of Thom Browne's collection evolved from the asylum to the church this season. His show made big references to Fellini's Roma, even using the same music by composer Nino Rota, from the famous scene of a Vatican fashion show. Watch the Fellini, below, because it's funny to imagine the front row bloggers resembling the blasé papal dignitaries in red.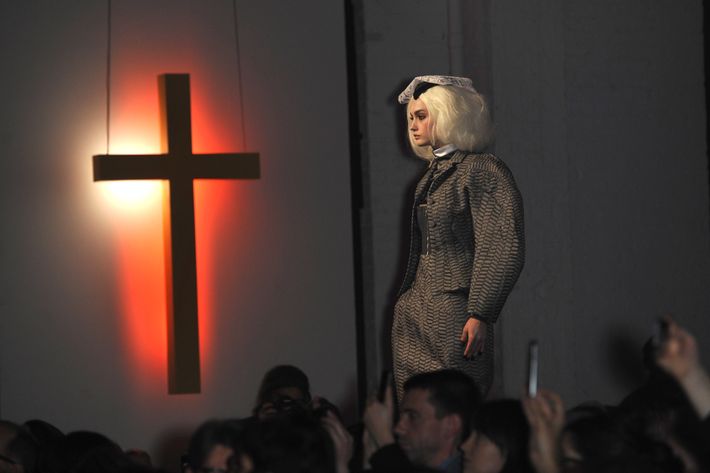 2. Everything is better when gilded. If you doubt us, just watch this guy gluing gold onto a Thom Browne jacket like he was playing the piano: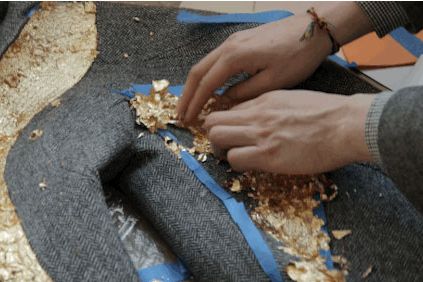 3. It was family day: As anyone who works in fashion knows, it takes a village to make a collection. So it was lovely to see some of that acknowledgment spread around today. At the end of the 11:15 showing of The Row, the Olsens came out to take their bows, trailed by what must have been their entire team of fifteen (or more) people. At Milly, the designer came out to bow and promptly scooped up her two children. Meanwhile, downtown, Rosie Assoulin introduced her guests to her large extended family, aunt, husband, and father; and at the Opening Ceremony talk with the Business of Fashion, Carol Lim's and Humberto Leon's mothers sat in the front row (decked out in Kenzo.)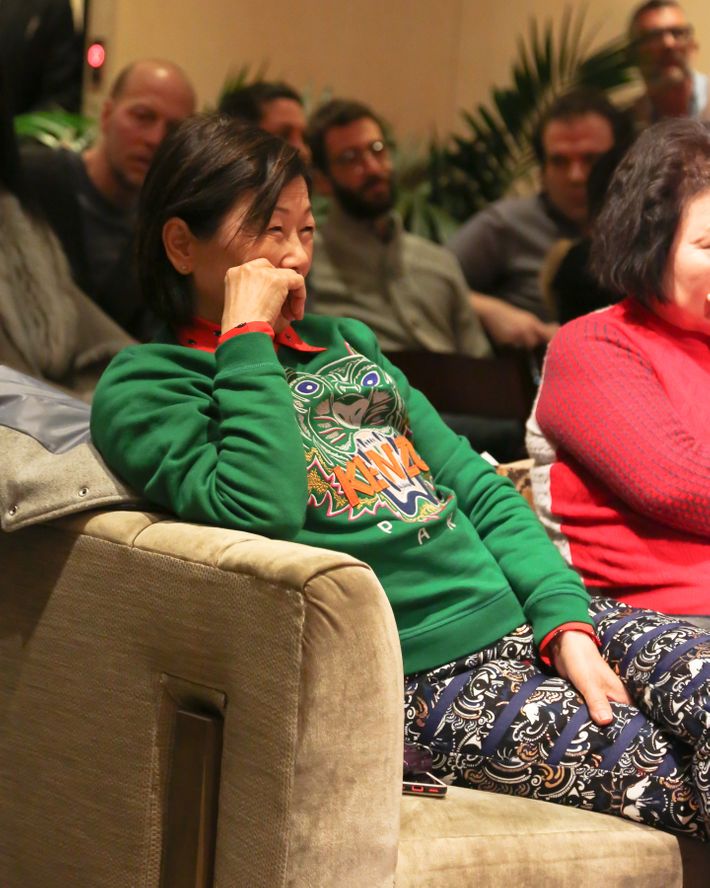 4. Speaking of The Row, there were knit turtlenecks so encompassing that wearing them might make you feel like one of those sad dogs who can't scratch itself because of the plastic funnel around it's neck. We want one. Immediately.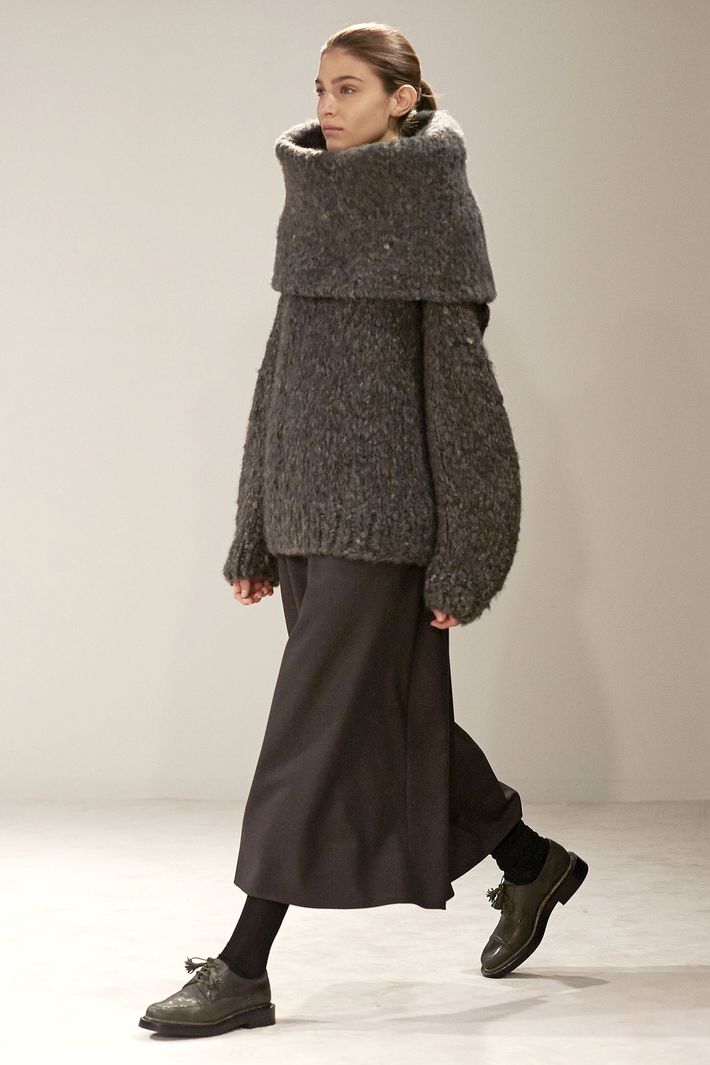 5. While we're talking enormous things, there were banana-yellow pants so large at Rosie Assoulin it appeared they could house a small village. Probably coming soon to a boutique near you for a cool $5,000.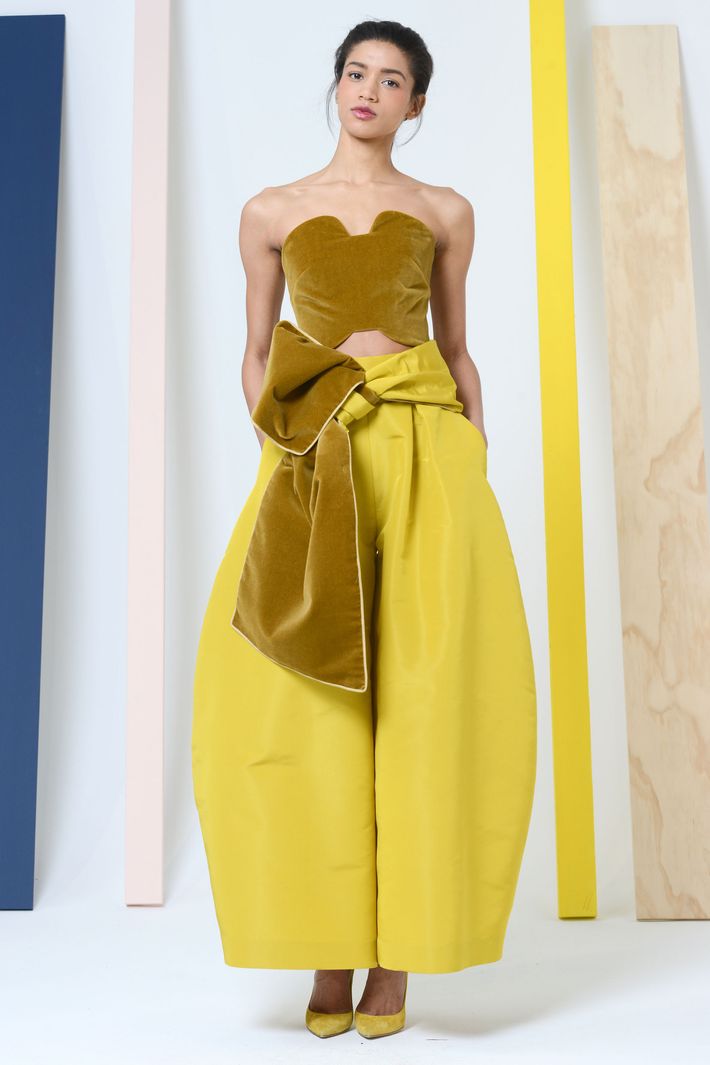 6. Donna Karan's showcase of the upper thigh was a jolt of sex in season that has favored ridiculously long coats and wool-on-wool. The first three looks showed black, suede, thigh-high boots — and left little to the imagination.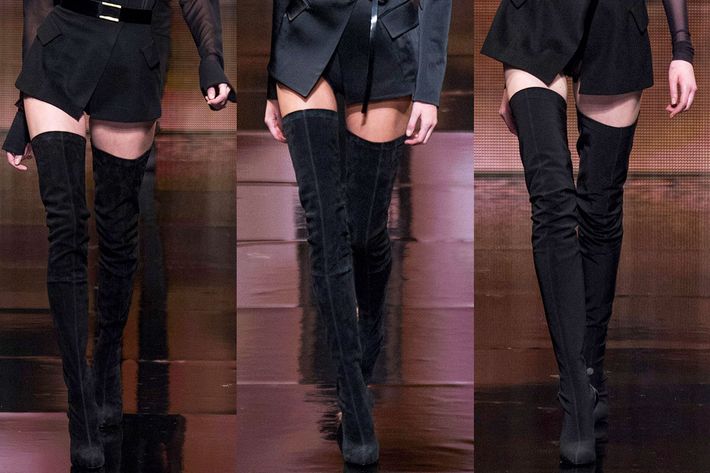 7. Taylor Schilling, who sat calmly in the front row at Theory (with a pretty dramatic cat-eye for 11:45 a.m.) told us that after the show — after one. single. show. — she was going home to take a nap.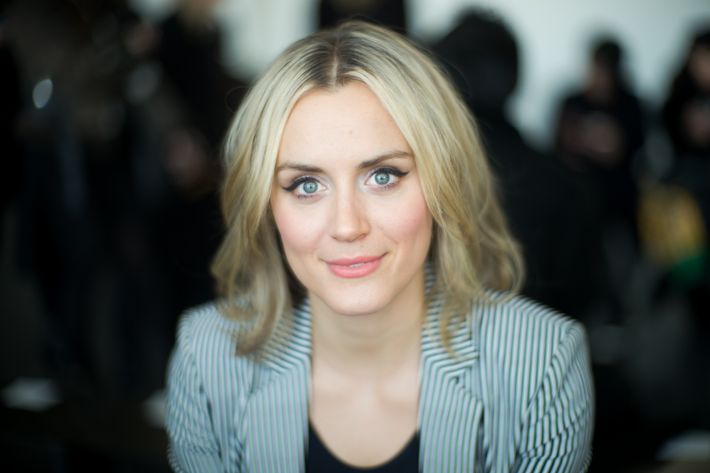 8. Elettra Wiedemann had a Jackie O. moment: At the press breakfast for Charles James, Elettra Wiedemann appeared before the press like she was being presented to the Junior League.
9. One word: Solange. The Yoncé sister would look great in any of the looks at Milly today, but if we were her stylists we'd pick out the oversize, silver-foil jackets and the fun, tufted-fringe jumpsuit. And many, many more things too. Basically the whole collection.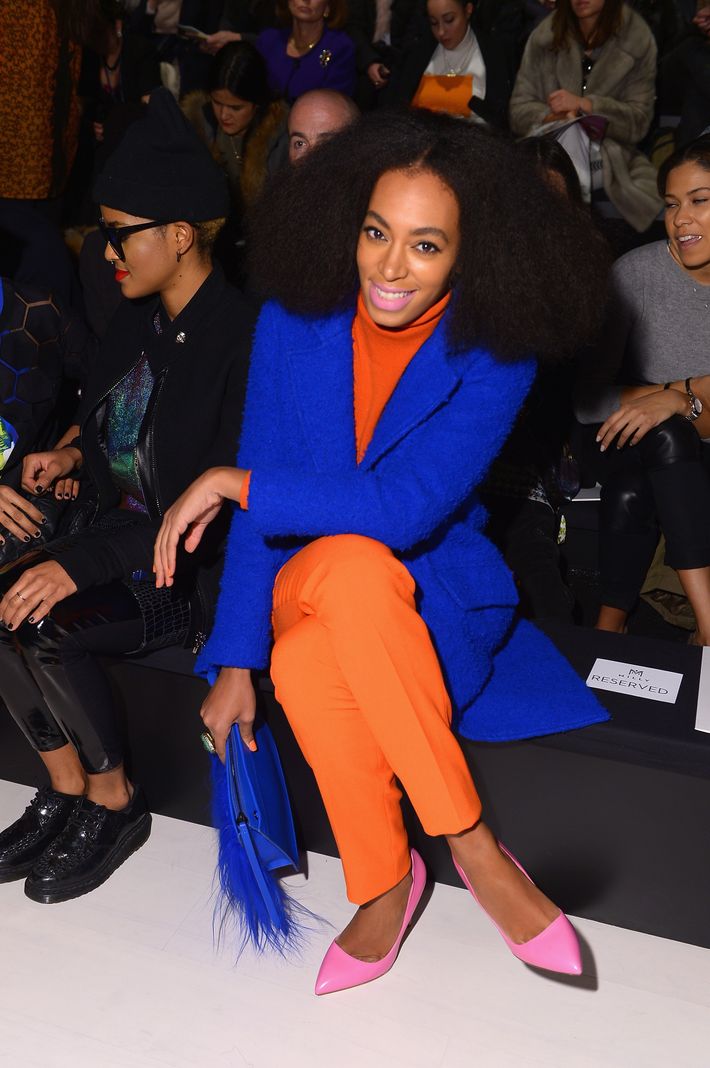 10. The male models at Telfar had 3-D statues made of themselves, matching their outfits for the show. We would be happy to store them in the Cut office, should they need a home.