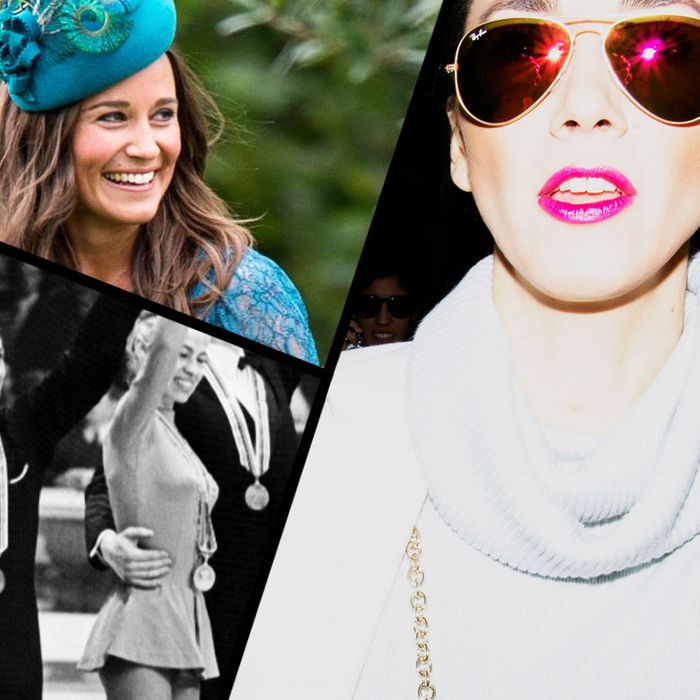 This week, the Cut's pursuit of female-centric topics led writers to see if curling worked up a sweat, report on fashion week in London and Milan, and catalog all of the indignities that Kate Upton's boobs have endured.
 1. What does the Pippa Middleton lifestyle entail? Cruise days, consolidation days, celebrating, Zumba, haggis— oh, it's a whirlwind of meals and exercise. Rebecca Harrington reports.
2. What sort of sexy shenanigans did your Barbies get up to? Ann Friedman writes about the usually unacknowledged sex lives within the Dream House.
4. Have you caught up on sleep and sanity after NYFW? That's great. For posts with a little perspective on the fashion week that passed, Veronica Misako Gledhill has compiled the fifty best looks, illustrator Bil Donovan created some dreamy watercolors, and Daley Quinn found 27 really rad hats.
5. What do barfing and sequins have in common? Erica Schwiegershausen spoke to fifteen people from the competitive figure skating world about their time with the sport.
6. Does love know any limits? Love knows no limits, not even the probable bounds of geography. Grace Wyler reports that Tinder matched a couple in Antarctica.
7. What news from Milan and London? Rebecca Ramsey reports on the most bonkers events at London's fashion week. And in Milan, it's all bright lipstick, cigarettes, and big hair clips. Alex Majoli has glamorous photographs of the scene.
8. Will you like this post for my self-esteem please? Maureen O'Connor writes about how social media can feed our neediness.
9. What have we done in the name of editorial photography and science? Kate Upton's breasts have been subjected to at least a dozen indignities including employment as a marine wildlife habitat, a jungle-gym for a small monkey, and zero gravity.
10. Who really won the Olympics in the Hair division? Men's follicles, by a landslide. Here are a dozen or so male Olympians with fantastic hair.
11. Finally, for your Olympic queries, let's talk about curling. Does it do a single thing that gets the blood moving? Cheryl Wischhover's investigation might surprise you. Does she lose her breath? Well, we're not going to spoil it for you, but we will tell you that there is a fun discussion of curling uniforms.