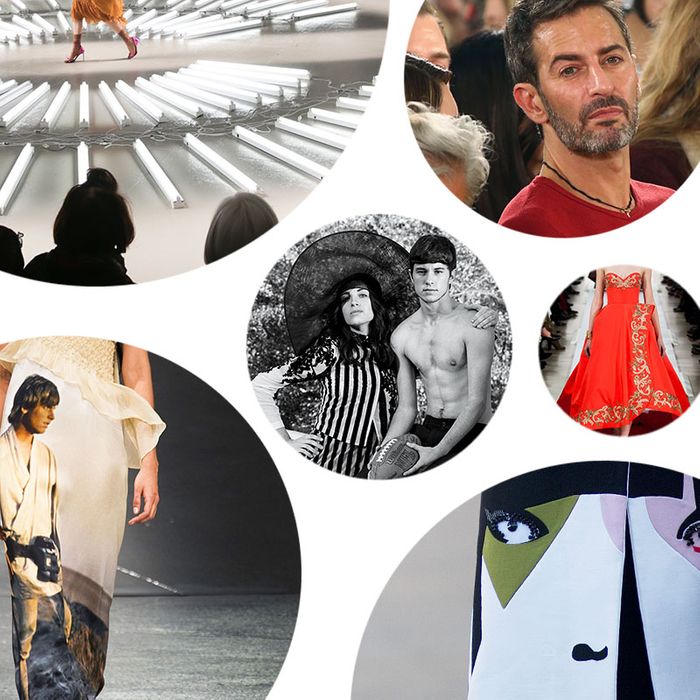 If Monday is the hump day of fashion week, by Tuesday, the madness sets in. Editors ran through a bacon haze in the Alice Tully cafeteria to make it to Tory Burch at 9 a.m. (a junior editor in shearling claimed he was "having a coronary" because his bosses hadn't yet shown up at 8:59.) At the J.Crew presentation, male models winked at any person who tried to photograph their shoes, and people tripped over the lighting on the runway at Rodarte. BMX biker chicks invaded Marc by Marc Jacobs, and editors got stuck in the elevator for an hour after Oscar de la Renta. Read on for the most unhinged things that happened yesterday.
1. The Great Jefferson Hack Seat Bump of 2014: Arriving very late for Rodarte, the perma-man-child and former Mr. Kate Moss "squeezed" into the front row, leaving one unfortunate editor on the end of the bench with no choice other than to move back to the second row. Classy.
2. We couldn't stop making bad Star Wars puns after the Rodarte finale. "The empire waist strikes back." "Attack of the Clothes." "Laura, I am your sister." We were not alone:
3. Meanwhile, if you want to DIY those looks, pick up a pair of your childhood sheets on Etsy:
4. Also accidentally Star Wars themed: the many Wookie-on-roids-sized fur hats people wore to stay warm today.


5. Speaking of, "Street Style," naturally, the first time we saw the Prada Spring/Summer 2014 fur coat in the wild, was on the back of professional clothes-horse Giovanna Battaglia. Battaglia wore it with simple black pants, a black turtleneck and a wookie hat, because, honestly, with that coat you need nothing else.
6. Marc Jacobs chilled in the front row at Marc by Marc. Now that he's a free man, the designer watched the show, relaxing with Sofia Coppola. When the brand's new designers Luella Bartley and Katie Hillier came out after the finale, they appeared to bow directly to Marc, which was perfect and strange and reminiscent of The King and I.
7. We can't wait to see Marc by Marc's BMX biker girls on the K-Pop stars. We give it two weeks until Taeyang, G-Dragon, and the rest of the K-Pop street-style crew shows up at the European shows wearing these bandanas.
8. As the Marc by Marc show began, someone dove onto the floor next to our seat. For the first few looks, we found ourselves staring the back of this person's head; she had long, perfectly highlighted, disheveled beadhead. We soon realized it was Kelly Killoren Bensimon — swathed in grey cashmere and accompanied by her daughter — and that it was probably a weave.
9. As always, Oscar de la Renta brought a needed dose of old-school glamour. The glistening, beaded gowns swished hypnotically as they glided by. The models looked perfect, but for their pixie wigs, which appeared to have been cut at the mental ward barbershop. It was the perfect touch that made the whole thing feel very modern. We can't wait to see all of the gowns from this collection at this year's Met Ball, where they will fit right in with the Charles James exhibit. 
10. An elevator malfunction caused mild panic after Oscar de la Renta. We hope at least one of the 11 editors stuck in the elevator after the show still had that Alexander Wang flask stashed in her Céline bag.
11. The Bruce Weber—shot campaign for Barneys, which featured 17 transgender individuals and their families, now has a beautiful, 36-minute short film (also directed by Weber). It premiered last night at the Guggenheim and featured moving interviews with the subjects about their transitions.
Two days left, chickadees. Still plenty of time to get frost bite in your open-toed shoes.