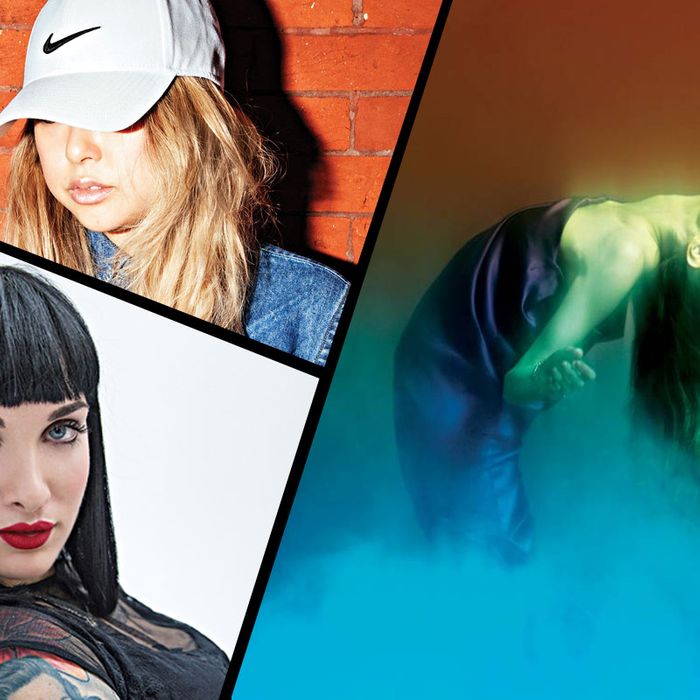 This week, the Cut's pursuit of female-centric topics led writers to report from the Paris and Milan Fashion Weeks, develop a new mantra for mothers, and write a hearty takedown of sexting.
1. Are you "normcore, lol"? Fiona Duncan delves, digs, and dives into the latest fashion juggernaut, normcore, which is a non-trend trend of course, inspired by tourists and Jerry Seinfeld.
2. Can we all collectively agree that sexting sucks? Sure, why not. It's embarrassingly performative, awkward, and barely a deterrent of boredom. Maureen O'Connor explores why we still engage.
3. What's it like to get proposed to via an Instagram post? We talked to Jenna Caine about her "so 2014" engagement.
4. Do you want to see something beautiful and surreal? Of course you do, you always do. Here are 15 kaleidoscopic photos from the Cut's Maciek Jasik, bringing his surreal light to 15 gorgeous spring items.
5. Do why did the Duke freshman porn star go to a university that was notorious for issues regarding gender, sexuality, and double standards? Kat Stoeffel asks her here.
6. If New York were high school, who would be the school-wide crushes? OKCupid revealed the four most desired people in New York; Logan Hill talked to them to see if they really were as charming as all that.
7. Anyone making statements at Paris Fashion Week? Robin Givhan writes that Rick Owens is giving fashion audiences street-level intimacy and "real" people, while Alexander Wang is giving "highly cosseted women clothes in which they can face the windy, rainy, cold, unpredictable world."
8. What about some Euro Fashion Week overviews? Givhan writes that Paris Fashion Week is nice, pleasant, but not particularly enlivening. Alex Majoli goes behind the scenes to bring you strange glimpses into the madness of a runway show.
9. Are you a mom who feels guilty about all the mom-things and non-mom-things you could be doing better? Jennifer Senior recommends that you start accepting her new mantra. What mantra is that? Oh, she'll tell you all about it, right here.
10. Was that the wildest set of dresses on Downton Abbey yet? It might have been, according to Downton's Emmy-winning costume designer, Caroline McCall, who talked to Katie Van Syckle about transitioning the Crawleys into the Jazz Age and drawing inspiration from Vionnet and Chanel.
11. Are sneakers truly the best new thing from fashion month? Oh, yes, they are. Here are not two, not three, not 36, but 60 of the best sneakers from the Fashion Weeks in New York, London, and Milan.