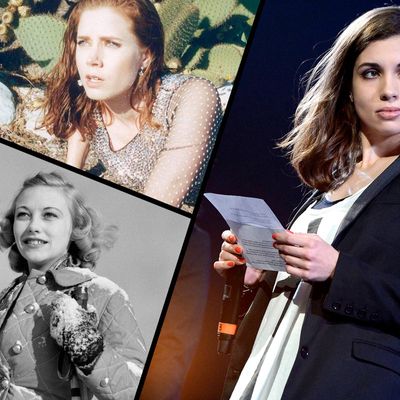 Photo: W / Juergen Teller, ClassicStock/Corbis, Theo Wargo/Getty Images
This week, the Cut's pursuit of female-centric topics led writers to brave the cold, see Pussy Riot at Barclays, and peruse The Bachelor for career options. (And, of course, many Cut writers and correspondents are attending Fashion Week. Check all that business out here.)
1. What do a resort accountant, a mineral coordinator, a sorority recruiter, and a power tools sales representative all have in common?
Oh, they are just 4 of the 50 professions you can have, according The Bachelor. Allison Davis took notes.
2. Hey! Are you those neighbors having super-loud sex?
That's totally fine. Hold your apologies! Maureen O'Connor has got a fantastic defense for you right here.
3. Is your skin cracked, is your hair dry, and is your heart cold?
Kathleen Hou has meticulously sorted through dozens of helpful ways to survive the winter in beauty and health. Prepare your fish oil and sleeping on satin pillows.
4. Who is finally questioning the "evolutionary" explanations behind hookup culture?
That would be Terri Conley, a University of Michigan professor of psychology and women's studies, who runs the Stigmatized Sexualities Lab. Kat Stoeffel spoke to Conley, who said a series of great things, like:
So whenever I get to talk to guy outlets I like to emphasize: The reason women are turning you down for casual sex seems to be that, for one thing, a lot of you are calling them sluts afterward. A lot of you aren't bothering to try to be good in bed. Until you can try to get that under control, it's kind of hard to take seriously all these complaints about not having access to casual sex. It's largely a product of your own behaviors.
5. Who has an insider perspective on Sochi's current issues with gay rights?
Stephen Milioti spoke to Brian Boitano, a lifestyle expert and an openly gay athlete heading to the Sochi Olympics.
6. And while we're on the topic of Russia, what's the latest with Pussy Riot?
Katie Van Syckle reports on their show, with Madonna and friends, at Barclays.
7. What does it mean when you side with Woody Allen or Dylan Farrow?
Ann Friedman writes that people side with the perspective that they most identify with. She also creates the concept of the Island. You can't actually send people there, but you can think about it.
8. With the Super Bowl last week, was sex-work traffic really heightened?
Probably not, according to Melissa Gira Grant, author of Playing the Whore: The Work of Sex Work, who spoke to Erica Schwiegershausen about how these numbers are usually dramatically overhyped.
9. What was looking wack and what was looking wonderful in the fashion magazines this month?
We have compiled the Best and Worst of February fashion magazines.
10. How are you already so bored with your Valentine's Day plans?
Be bored no more: The Cut has a list of fun, naughty, and chic Valentine's Day goodies.