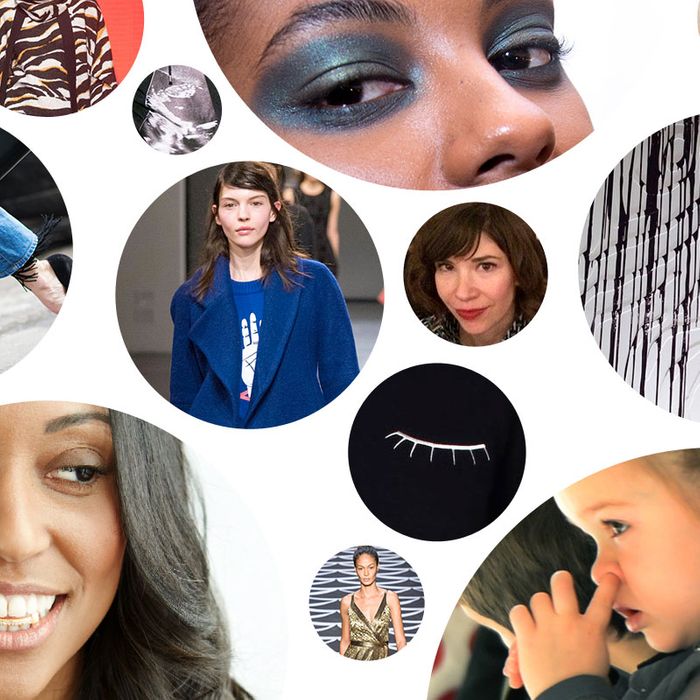 It's hard to know what to say about a day that simultaneously brought us the glory of David Beckham at the excellent Victoria Beckham show, a parade of golden wrap dresses at DVF, and such pretty frocks at Delpozo, as well as a wild dance performance at Hood by Air, a street-style star who works for the respected designer "Penelope Van Pap Smear," fetus logos on T-shirts, and a wall covered in one ton of melting Belgian chocolate. But let's dive in, because on Sunday of Fashion Week, people start to hit their strides, feel warmed up, and occasionally, even begin having fun. See our highs and lows from day four of Fashion Week:
1. It was possible to miss Carrie Brownstein at DVF, as she sat behind a front row that included Paris Hilton and a lot of other blonde celebs we should recognize but didn't. Her status as superstar was later rightfully restored at Opening Ceremony, where she sat front row. We may have run over to her in a shameless, super-fan moment and begged her to do a Portlandia episode devoted to Fashion Week. Since then, we've already drafted a script, so if you're reading this, Carrie, holler at us.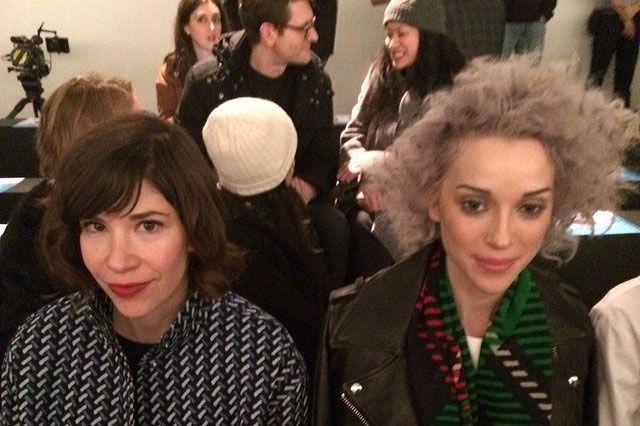 2. Carol and Humberto, Willy Wonkas of Fashion Week: As guests entered Spring Studios for the Opening Ceremony show, they received playing-card-size boxes of Belgian chocolate — apparently one contained a golden ticket to win Opening Ceremony's new Intel wearable device. Sadly, no tickets for us, but like Augustus Gloop, we did gobble the chocolate.
3. Halfway through the OC show, melted chocolate began to rain down the large white wall that served as the backdrop for the models walking, filling the hall with a sweet smell. When the show ended, everyone ran over and stuck their fingers in the fountain for a taste, but more importantly, an Instagram. (We can vouch: It was delicious, though a publicist warned us, "It's not the most sanitary.") It turns out Opening Ceremony deployed one ton of chocolate for the show — and there were 26 lucky people above the wall pouring chocolate down. They had to replace the wall for a second show happening later in the night.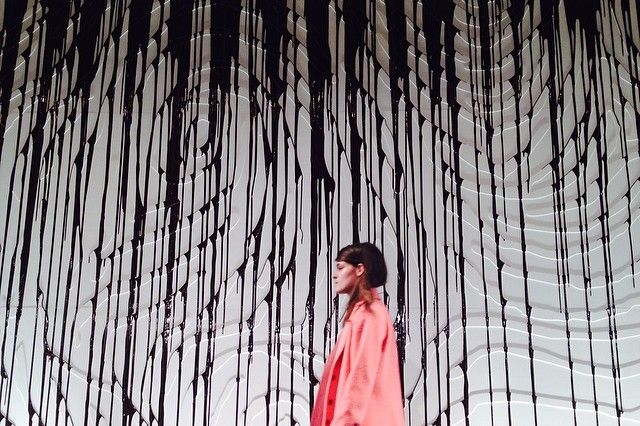 4. Makeup artists were pissed when certain models who walked in Alexander Wang last night showed up with damaged brows this morning. But really, why bleach when you could use brow-blocking, the old drag-queen trick used at Hood by Air to create the slashed cheetah-print brows?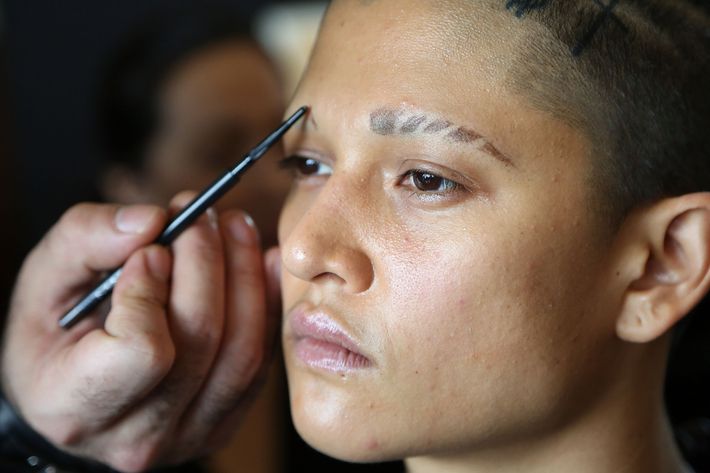 5. Harper Beckham sat front row, picking her nose at her mother's show this morning, always the highlight of that show. Bonus: There were many many looks we liked, including knife-pleated dresses and skirts worn with or without slouchy sweaters.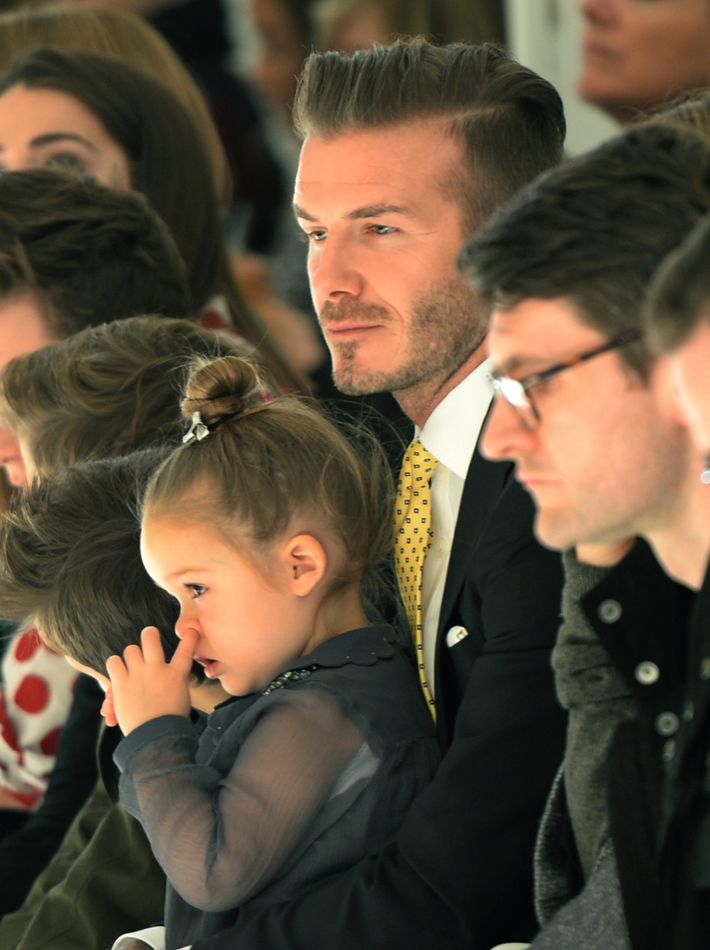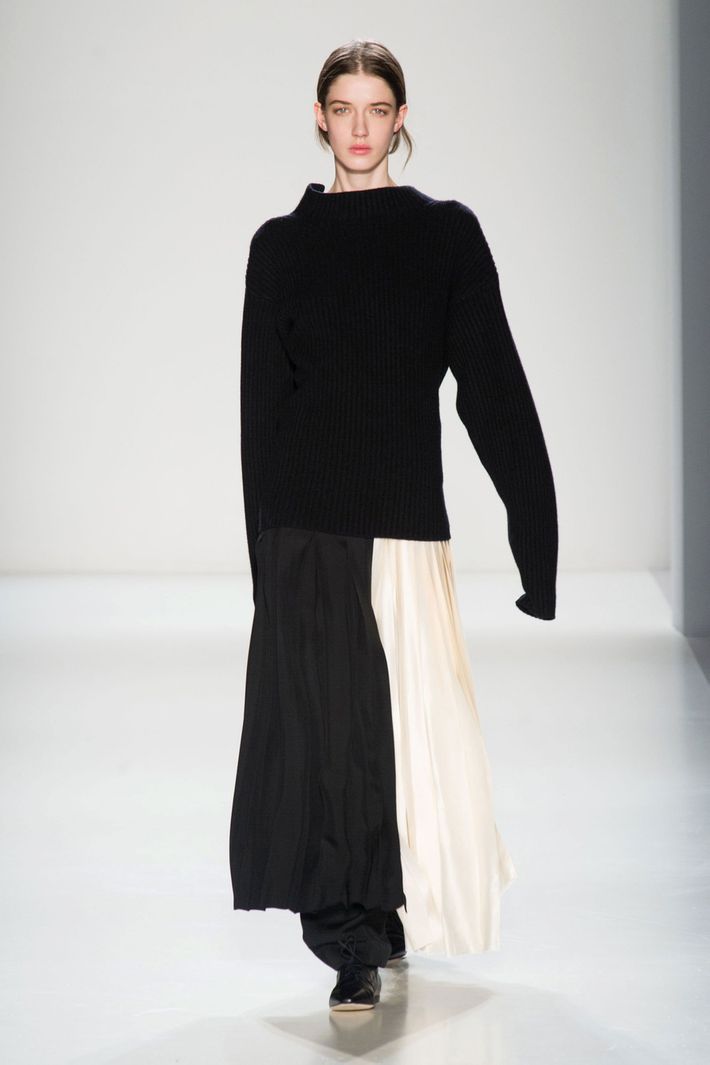 6. Olivia Palermo is the Oprah of Spring Studios: Thousands of people flooded the elevators leaving the Diane Von Furstenberg show. Except for one, which went down carrying Olivia Palermo and her crew alone — no explanation as to why she wasn't accepting other riders. Maybe her fur was too big and full of secrets?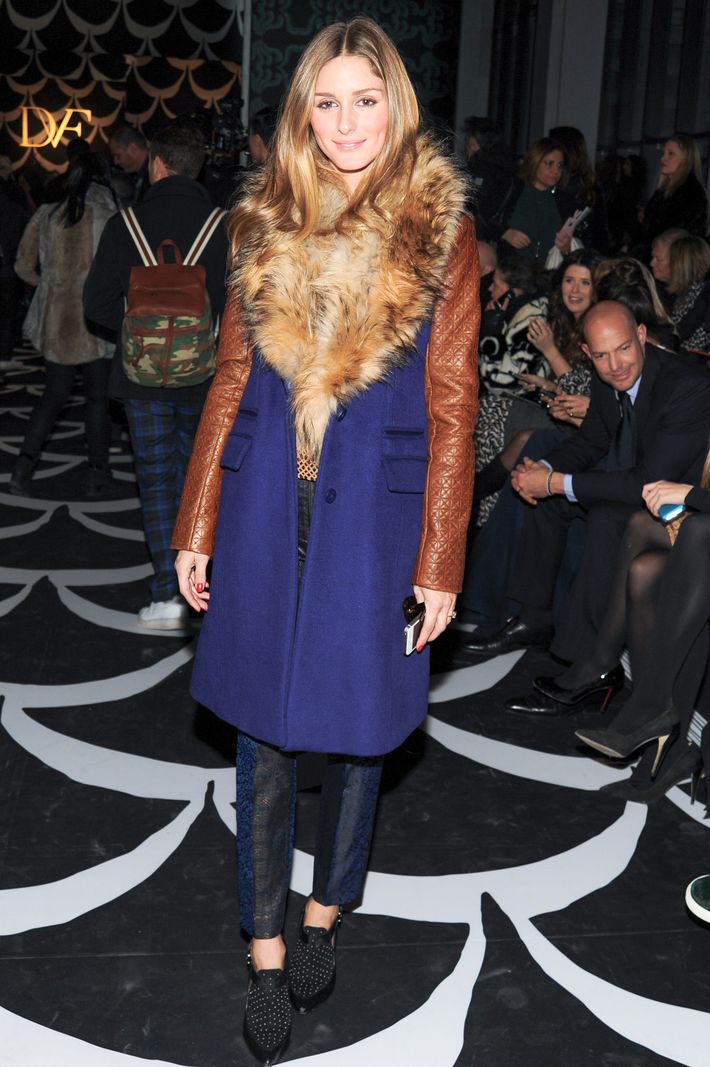 7. Cosmo's fashion editor Shiona Turini wore the most ladylike and elegant grillz we've ever seen. Bravo.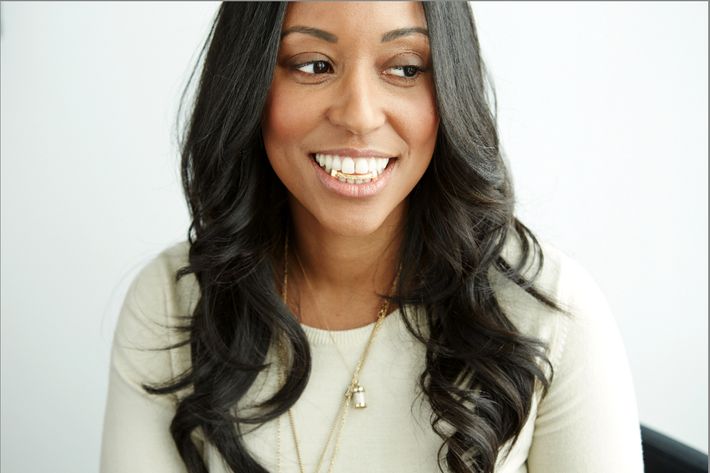 8. Were we Punk'd outside Milk Studios? Mingling in the crush of wannabe street-style stars, we met a man with a plastic alligator on top of his fedora. He introduced himself (in a fake German accent) as "Matthias" who "works for the designer Penelope Von Pap Smear." When we asked to take his picture, he grabbed a confused bystander for effect. But if that was you Jimmy Kimmel, we weren't buying it.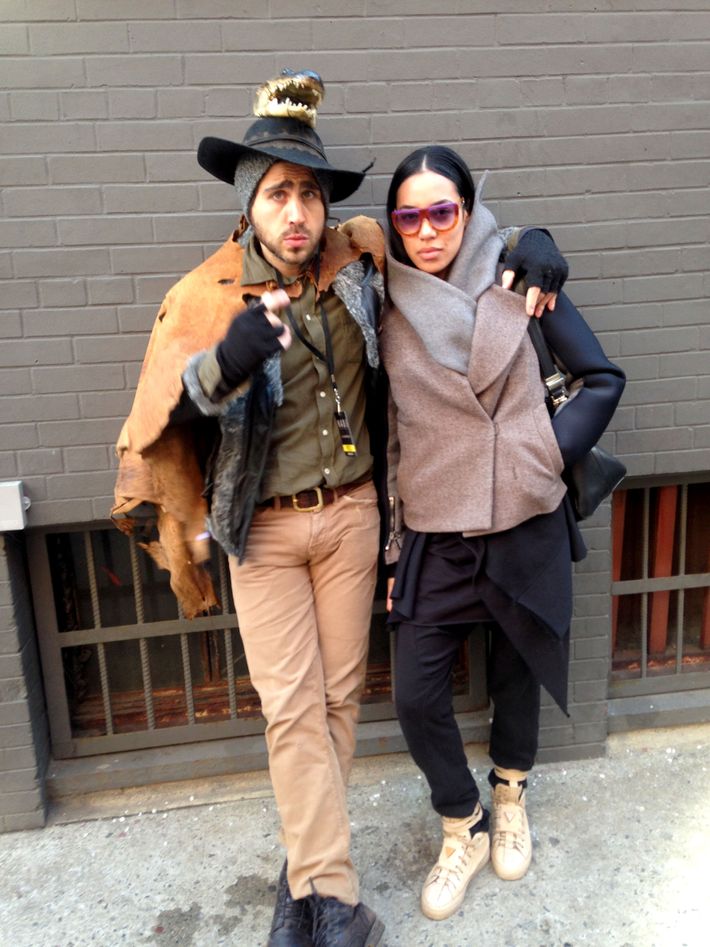 9. Then again … on our way into Pier 60 for the Hood by Air show, we spied a young man in shin guards, soccer shorts, spandex, and platform shoes. So we played the game: Hood by Air attendee or Chelsea Piers Soccer Nerd? We tracked him down and discovered that his name is Seymour Glass (like the J.D. Salinger character) and he's the young New York editor of Schön!, a German magazine from London.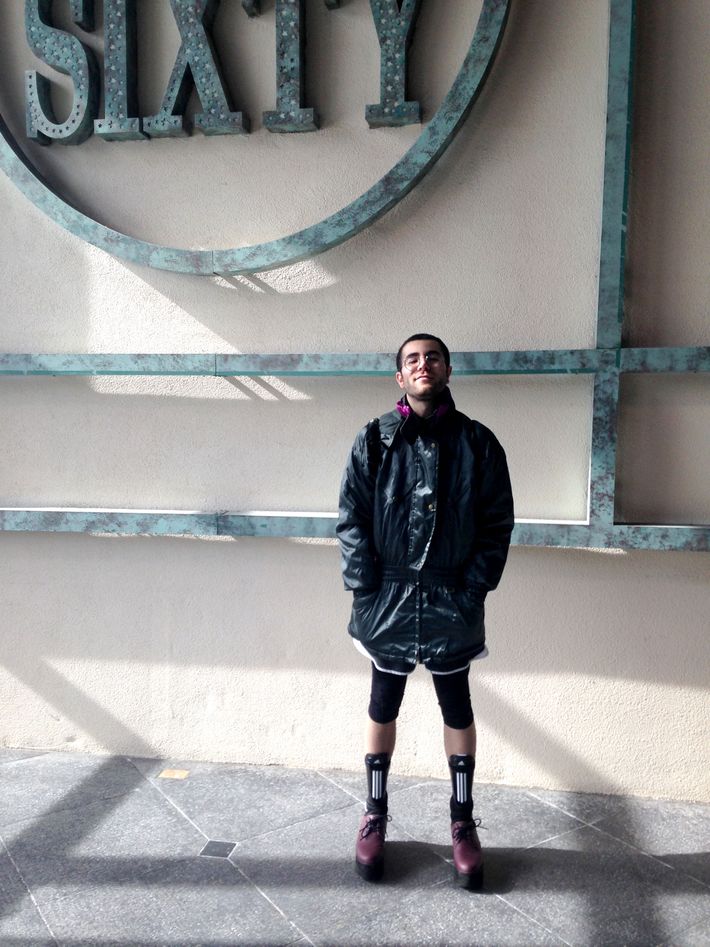 10. Of all the hair extensions at the Hood by Air show, our favorites were the blond, frizzy pigtails by Bumble and Bumble.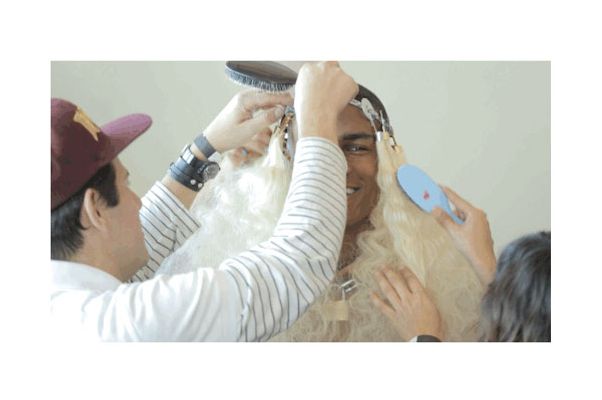 11. Backstage at Hood by Air, while 300 naked men were trying to pull off their blond extensions, we ran into an old friend from middle school, who was just hanging out "because she designed the fetus logos for the T-shirts." We were proud of our younger selves for knowing someone like this.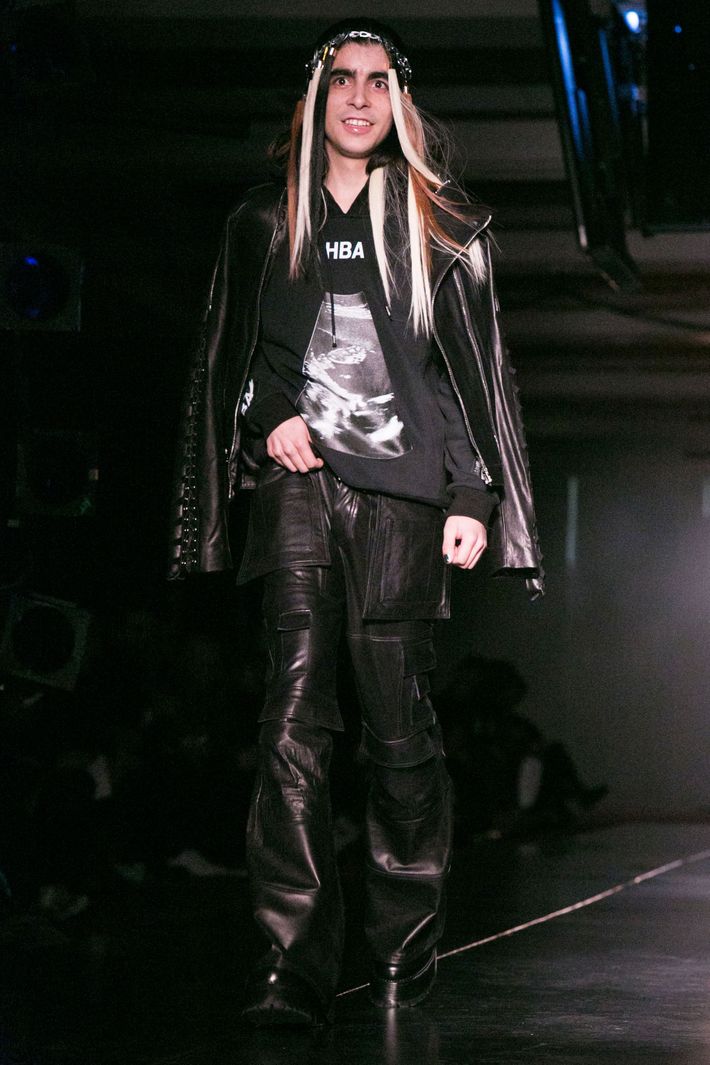 12. Band of Outsiders had a sweater that we named "The Emoji Sweater." Or maybe it was just happy to see us.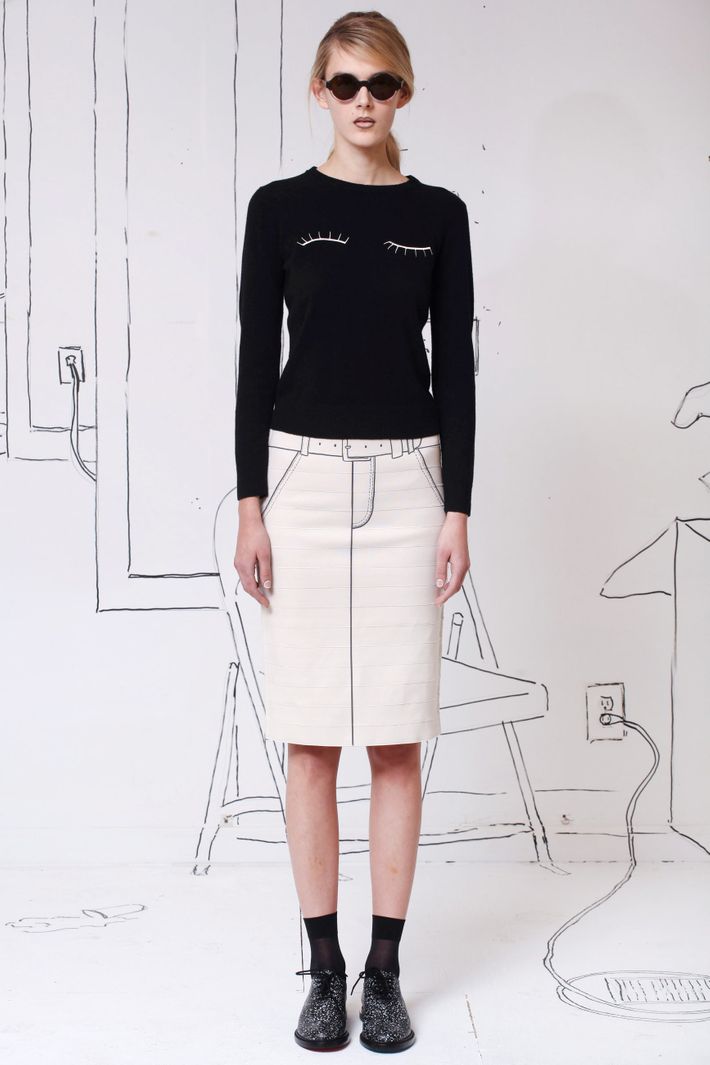 13. "I love your jeans," Leandra Medine mouthed to Taylor Tomasi Hill across the runway at Delpozo just before the show started. "Thaa-annks," she mouthed back. "What are they?" Leandra asked. "Junya … they're on sale now, they also come in black." "Cool, thanks." Bedazzled, bepatched, fringe jeans for all.